ICC World Twenty20 or World T20 is an international championship organised by ICC every two years though there is 4 year gap in next two tournament (2016 and 2020). The championship first started in 2007 and 5 tournaments have been played, sixth being the upcoming World T20 2016 in India. So far we have five ICC World T20 winners. Currently total 16 members take participate in the tournament, 8 being the full ICC members and other 8 are the associate members qualified through World Twenty20 Qualifier. Since 2007 five teams have won the T20 world cup so far, with no team winning on multiple occasions.
8 Full Members:
8 Associate Members:-
 Bangladesh
Nepal
Afghanistan
Hong Kong
Ireland
 United Arab Emirates (UAE)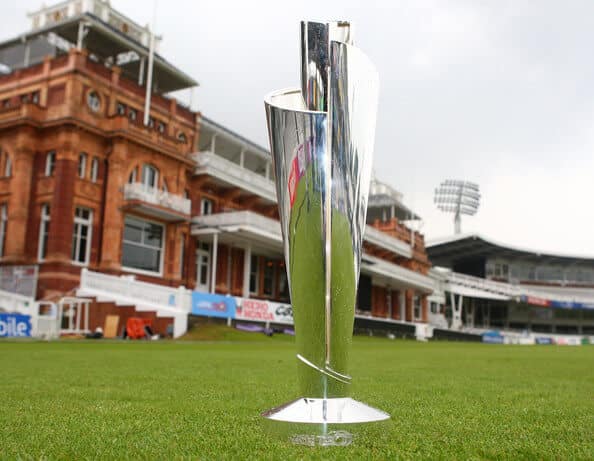 Here is the list of World T20 winner with all their records and performance :-
Year
Host
Winner
Final Result
Runner-up
Man of The Series
Most Runs
Most Wickets
2007
South Africa
India 
India won by 5 runs
Pakistan
Shahid Afridi (Pak)
Matthew Hayden (Australia)-265 runs
Umar Gul(Pak) -13 wkts
2009
England
Pakistan
Pakistan won by 8 wickets
Sri Lanka
Tillakaratne Dilshan (Sri Lanka)
Tillakaratne Dilshan (Sri Lanka)-317 runs
Umar Gul(Pak) -13 wkts
2010
West Indies
 England
England won by 7 wickets
Australia
Kevin Pietersen (England)
 Mahela Jayawardene(Sri Lanka)-302 runs
Dirk Nannes (Australia)-14wkts
2012
Sri Lanka
West Indies
West Indies won by 36 runs
Sri Lanka
Shane Watson (Asutralia)
Shane Watson (Asutralia)-249runs
Ajantha Mendis (Sri Lanka)-15 wkts
2014
Bangladesh
Sri Lanka
Sri Lanka won by 6 wickets
 India
Virat Kohli (India)
Virat Kohli (India) -319runs
Imran Tahir(South Afriaca)  &
 Ahsan Malik (Netherlands)-12wkts
1.India (2007)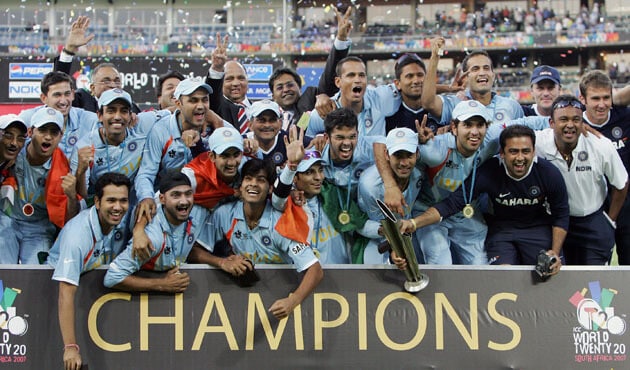 India was the first ICC World Twenty20 Champions in 2007, hosted by South Africa. Total 12 teams took participate in the tournament, 10 ICC full members and Kenya and Scotland who were the finalist of WCL Division One tournament. New Zealand, Pakistan, Australia and India were the team who made into semifinals. Pakistan defeated New Zealand by 6 wicket and India won by 15 runs against Australia in semifinals. The final match was between the two most rivalry teams and was super interesting. India won the title by 5 runs. Some great performances were the highlight of the tournament, Chris Gayle 117 runs innings from just 57 balls including 10 sixes, and Yuvraj Singh 6 sixes in 6 balls in an over score his 50 in just 12 balls and Brett Lee hat-trick, first in the T20 internationals .
Pakistan (2009):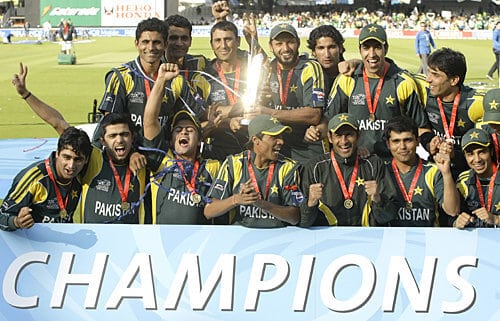 The second ICC World T20 tournament held in England 2009. Like previous T20 World cup, 12 teams battled for the championship 9 test playing teams and 3 associate teams Ireland, Netherlands and Scotland. This tournament was full of some big surprises as favorites were defeated by underdogs. Australia could not make way to super8 and lost its both group matches to Sri Lanka and West Indies. In super 8 stage, the previous champion and a strong contender lost its all 3 matches to West Indies, England and South Africa and thus was out of the tournament.  In semi finals Pakistan won against South Africa by 7 runs and Sri Lanka won by 57 runs against West Indies and reached finals. Shahid Afridi's 54 runs innings and 2 wickets for 16 runs helped Pakistan to make the T20 World cup tittle into their name by defeating Sri Lanka with 8 wickets in hand.
England (2010):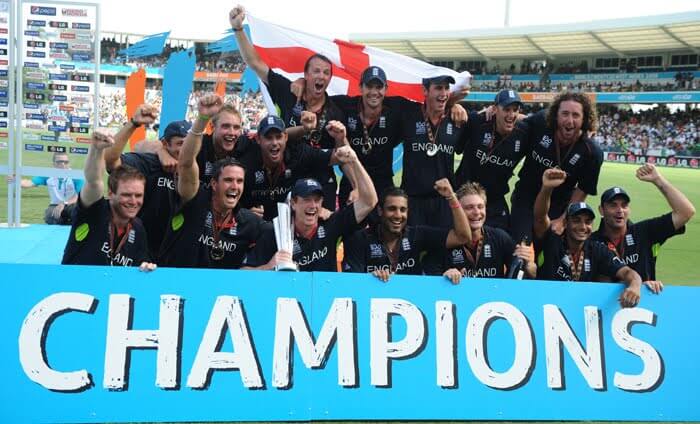 The third edition of the tournament was hosted by West Indies in 2010. The tournament was held earlier from its two-year span as 2008 Champions Trophy tournament in Pakistan was postponed due to some security reasons. As before 12 teams participated in the tournament 10 being the full members and other two were Afghanistan and Ireland who were qualified through ICC World Twenty20 Qualifier. The two oldest rivalry England and Australia met in finals by winning in semifinals against Sri Lanka and Pakistan respectively. England Team won the T20 World Cup by 7 wickets with three overs to spares.
West Indies (2012):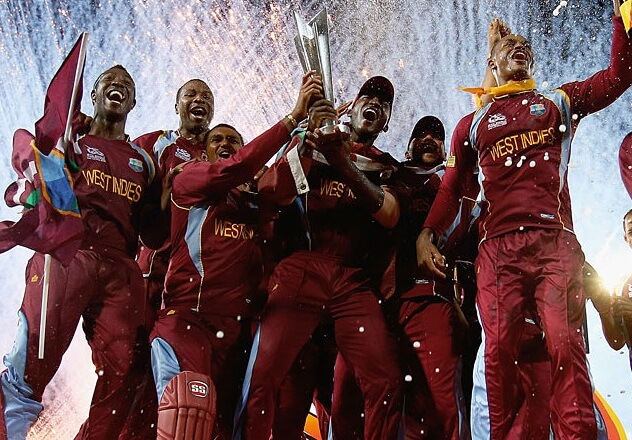 In 2012 ICC World T20 Championship tournament was first time organised in an Asian countries, Sri Lanka. Afghanistan and Ireland were two teams to be qualified for the tournament other than 10 full members. The host Sri Lanka and West Indies battled in finals for the championship. West Indies defeated the host team by 36 runs making their third world tittle and first since 1979 world cup. Mahela Jayawardene became the  batsman with most fours in a tournament and Brendon McCullum became the only man to score two international T20 hundreds.
Sri Lanka (2014):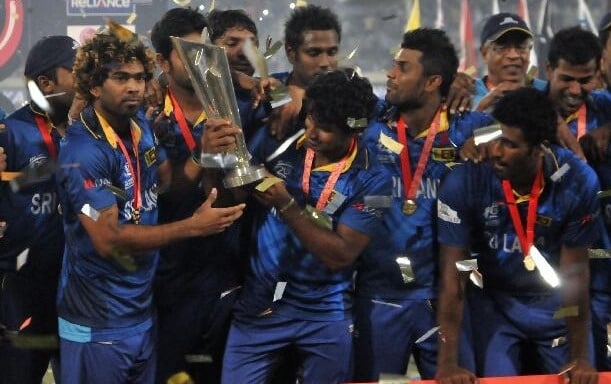 The fifth edition of the tournament was held in Bangladesh in 2014. This time 16 teams participated in the tournament. Eight teams of Associate members played in first round from which two teams Bangladesh and Netherlands moved to super 10 round with 8 full member teams which are automatically progressed to super 10 round. India and Sri Lanka reached finals by winning in semi final against South Africa and West Indies. India lost their first match of the tournament against Sri Lanka in finals. Sri Lanka Team won T20 world cup by 6 wickets and became ICC World Twenty20 Champions of 2014.
Now the 6th edition of World T20 2016 is just about to start (Check World Cup Time Table here) and 10 teams will battle for the glory and only one team will win the T20 World cup 2016.