Indian Premier League T20 Tournament which is ranked at no. 3 in the world's most viewed sports league is back again with all the entertainment. The IPL 2017 schedule has not announced but the dates has been decided.  The first match of the league will be played on 5th April 2017 and the Grand Finale on 21st May 2017. These dates are tentative and subject to change according to IPL governing committee but you can have an idea that the full fixtures of the tournament will be made around these dates. We are sharply covering all the media and we will update all the information here as soon as the official releases some circular regarding change of date and time-table of the league. Vivo will be the title sponsor of this season too.
Update: Fixtures of IPL 2017 Schedule is announced now. The first match will be played on 5th April 2017 between the Defending champion Sunrisers Hyderabad and Last year runner-up team Royal Challengers Bangalore at the Rajiv Gandhi International Cricket Stadium in Hyderabad. The Grand Finale will be played on 21st May 2017 on the same ground as of first match. Complete IPL 10 Fixtures are given in the end of the article.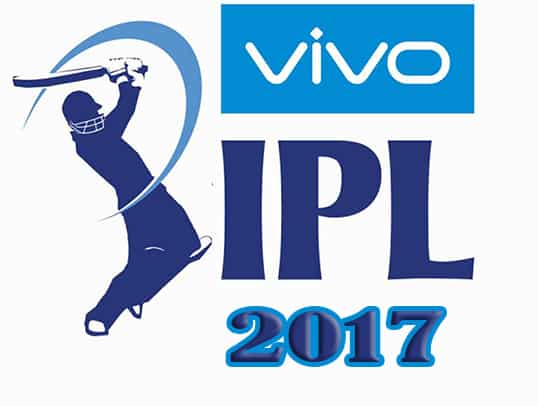 Indian Premier League is an Indian based T20 cricket tournament which is played every year in the month of April and May. From the inaugural season 2008, the tournament getting humongous support from all over the world. Total eight teams participate in the league out of which four qualifies to next round of the tournament. So far 6 different teams have wont the IPL title and let's see which team will lift the trophy this year.
We have witness the IPL 2016 season in which Sunrisers Hyderabad became the champions by defeating Royal Challengers Bangalore. Now fans are looking forward to next season which will be called Vivo IPL 10 as this will be the 10th season of the tournament. This year also Rajasthan Royals and Chennai Super Kings will not be part of the tournament as they were banned for the 2 years in 2016. The two new teams will not be new in the upcoming season. Gujarat Lions have topped the Points table where Rising Pune Supergiants was on 7th spot in 2016 season. This year all the teams will come on the ground with full charge, better confidence and try to improve their performance better than earlier.
Update on 15th Feb 2017 : BCCI and Indian Premier league Officials announced the fixture of upcoming 10th season. Check given below table.
IPL 2017 Schedule and Fixtures :-
Starting Date: 5th April 2017
End Date: 21st May 2017
Season: 10th
Total Teams: Eight
Total No. of Matches :- 60 (56 + 4)
The full time table, Matches and venue of the Indian Premier League 2017 will be update here as soon as we get some notifications from the officials.
IPL 2017 Schedule & Fixtures

Date
Match
Venue
Time
5th  April 2017
SRH vs RCB
Hyderabad
8:00pm
6th  April 2017
RPS vs MI
Pune
8:00pm
7th  April 2017
GL vs KKR
Rajkot
8:00pm
8th  April 2017
KXIP vs RPS
Indore
4:00pm
8th  April 2017
RCB vs DD
Bangalore
8:00pm
9th  April 2017
SRH vs GL
Hyderabad
4:00pm
9th  April 2017
MI vs KKR
Mumbai
8:00pm
10th  April 2017
KXIP vs RCB
Indore
8:00pm
11th  April 2017
RPS vs DD
Pune
8:00pm
12th  April 2017
MI vs SRH
Mumbai
8:00pm
13th  April 2017
KKR vs KXIP
Kolkata
8:00pm
14th  April 2017
RCB vs MI
Bangalore
4:00pm
14th  April 2017
GL vs RPS
Rajkot
8:00pm
15th  April 2017
KKR vs SRH
Kolkata
4:00pm
15th  April 2017
DD vs KXIP
Delhi
8:00pm
16th  April 2017
MI vs GL
Mumbai
4:00pm
16th  April 2017
RCB vs RPS
Bangalore
8:00pm
17th  April 2017
DD vs KKR
Delhi
4:00pm
17th  April 2017
SRH vs KXIP
Hyderabad
8:00pm
18th  April 2017
GL vs RCB
Rajkot
8:00pm
19th  April 2017
SRH vs DD
Hyderabad
8:00pm
20th  April 2017
KXIP vs MI
Indore
8:00pm
21st  April 2017
KKR vs GL
Kolkata
8:00pm
22nd  April 2017
DD vs MI
Delhi
4:00pm
22nd  April 2017
RPS vs SRH
Pune
8:00pm
23rd  April 2017
GL vs KXIP
Rajkot
4:00pm
23rd  April 2017
KKR vs RCB
Kolkata
8:00pm
24th  April 2017
MI vs RPS
Mumbai
8:00pm
25th  April 2017
RCB vs SRH
Bangalore
8:00pm
26th  April 2017
RPS vs KKR
Pune
8:00pm
27th  April 2017
RCB vs GL
Bangalore
8:00pm
28th  April 2017
KKR vs DD
Kolkata
4:00pm
28th  April 2017
KXIP vs SRH
Indore
8:00pm
29th  April 2017
RPS vs RCB
Pune
4:00pm
29th  April 2017
GL vs MI
Rajkot
8:00pm
30th  April 2017
KXIP vs DD
Indore
4:00pm
30th  April 2017
SRH vs KKR
Hyderabad
8:00pm
1st  May 2017
MI vs RCB
Mumbai
4:00pm
1st  May 2017
RPS vs GL
Pune
8:00pm
2nd  May 2017
DD vs SRH
Delhi
8:00pm
3rd  May 2017
KKR vs RPS
Kolkata
8:00pm
4th  May 2017
DD vs GL
Delhi
8:00pm
5th  May 2017
RCB vs KXIP
Bangalore
8:00pm
6th  April 2017
SRH vs RPS
Hyderabad
4:00pm
6th  April 2017
MI vs DD
Mumbai
8:00pm
7th  April 2017
RCB vs KKR
Bangalore
4:00pm
7th  April 2017
KXIP vs GL
Indore
8:00pm
8th  May 2017
SRH vs MI
Hyderabad
8:00pm
9th  May 2017
KXIP vs KKR
Indore
8:00pm
10th  May 2017
GL vs DD
Rajkot
8:00pm
11th  May 2017
MI vs KXIP
Mumbai
8:00pm
12th  May 2017
DD vs RPS
Delhi
8:00pm
13th  May 2017
GL vs SRH
Rajkot
4:00pm
13th  May 2017
KKR vs MI
Kolkata
8:00pm
14th  May 2017
RPS vs KXIP
Pune
4:00pm
14th  May 2017
DD vs RCB
Delhi
8:00pm
16th  May 2017
MI vs RPS
Mumbai
8:00pm
17th  May 2017
SRH vs KKR
Bengaluru
8:00pm
19th  May 2017
TBD vs TBD
Bengaluru
8:00pm
21st  May 2017
Final
Hyderabad
8:00pm
Also Check : IPL 2017 Auction Update here
Also have a Look: Big Bash 2016-17 schedule