In the history of Big Bash League the name for Highest Score changes many times, the man who hits first 100 in BBL is David Warner of team Sydney Thunder he hits 102* runs but after him several tons seen on ground in every season. Today the man who hits first century of Big Bash League has reached to the no. 10 in highest individual score table because after him others also scored well.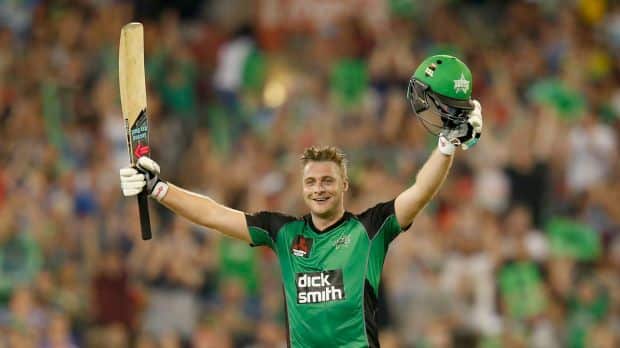 Luke Wright is the batsman who has the record of Highest Score till 2016-17 beginning, Luke scored 117 runs on 60 balls in 2012 against Hobart Hurricanes, that was mind blowing game. Their is not much difference in second and third position batsman only 5 Runs distance, as the popularity of T20 leagues are increasing the new and bright faces of cricketers doing fabulous. In most of the T20 format leagues Chris Gayle have these records but here he's not, hope in this season some new records will made.
The players who hits the runs above hundred have the name in list of highest score with the details of runs, balls, four, six etc. The new record will be recorded in the list on the basis of on-field stats.
Highest Individual Scores – Big Bash League (BBL)

Batsman
Against
Runs
Balls
4s
6s
Date
Luke Wright (Stars)
Hurricanes
117
60
8
9
9 Jan 2012
Luke Pomerbach (Heat)
Renegades
112*
70
15
2
15 Jan 2013
Craig Simmons (Scorchers)
Sixers
112
58
4
11
5 Feb 2014
Aaron Finch (Renedades)
Stars
111*
65
12
4
7 Dec 2012
Luke Wright (Stars)
Renegades
109*
63
11
4
2 Jan 2016
Usman Khawaja (Thunder)
Stars
109*
70
12
3
20 Dec 2015
Michael Klinger (Scorchers)
Renedades
105*
60
7
4
26 Dec 2014
Usman Khawaja (Thunder)
Strikers
104*
58
13
3
21 Jan 2016
Peter Handscomb (Stars)
Scorchers
103*
64
6
5
21 Jan 2015
David Warner (Thunder)
Stars
102*
51
6
6
17 Dec 2011
Craig Simmons (Scorchers)
Strikers
102
41
8
8
16 Jan 2014
Travis Head (Strikers)
Sixers
101*
53
4
9
31 Dec 2015
Chris Lynn (Heat)
Hurricanes
101
51
5
7
29 Dec 2015
Chris Gayle (Thunder)
Strikers
100*
54
3
11
23 Dec 2011