The grand T20 cricket event IPL 2017 has been starting with SRH vs RCB Match from 5th April 2017 and the competition to get in top 4 on the IPL 2017 points table has been started between all the 8 teams. The 4 teams who will rank high on the table will qualify to the next level of the competition. So each and every one will have their eye on the points table of IPL 10.
Each team will play 14 matches in the league stage twice with each team. After each match 2 points will be awarded to the winning team and zero to the losing team. One more factor which will decide the rankings of team is Net Run Rate (NRR). When two or more teams will have equal points then according to the margin of win a net run rate is given to the team. Bigger the margin, high will be the NRR. So captains and team management will keep with thing in mind while playing each and every match.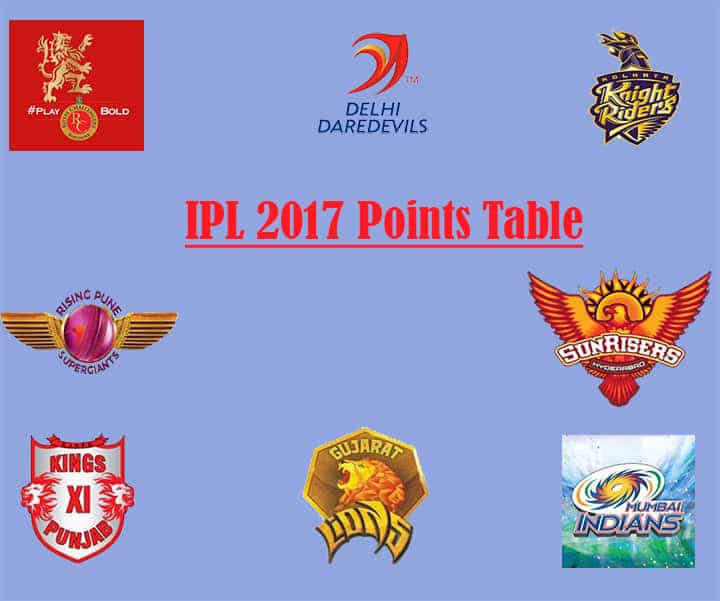 As per IPL 2017 schedule there will be total of 56 league matches will be played among 8 teams. From 5th April to 21st May 2017 will see lots of matches and up and down on the table. Last year Gujarat Lions finished the league round holding the top position on the table but unfortunately was not able to convert the advantage into winning of trophy and got eliminated just 2nd qualifier match. Let's see who will top the points table this year in IPL 2017.
Update 16 May 2017: RPS won the Qualifier 1 by defeating MI and qualifies for finals.
We will update the rankings after each match as soon as match ends with NRR. So just have a look onto the leader-board given below :-
IPL 2017 Points Table

Teams
Mat
Won
Lose
Points
NRR
MI
14
10
04
20
+0.784

RPS
14
09
05
18
+0.176
SRH
14
08
05
17
+0.599
KKR
14
08
06
16
+0.641
KXIP
14
07
07
14
-0.009
DD
14
06
08
12
-0.514
GL
14
04
10
08
-0.412
RCB
14
03
10
07
-1.454
just stay tune with us for better stats of IPL 10. Also have look at Orange cap holder of IPL 2017