From 5th April Indian premier league an India based T20 cricket tournament has been started with SRH vs RCB match. From this match an award is given to the player which is current leading run scorer batsman of IPL 2017 and the award is given in the form of a Orange cap. After this match we will have our first Orange cap holder of IPL 2017 and the batsman who score most run in the tournament will be awarded with it or we can say winner of the cap .
After each innings, this list of batsman with highest run scorer in the league will be updated and in the innings break, the player is given the reward for that. During each IPL 10 match the player who is on the top of the table will come on the ground wearing the cap so that viewers comes to know that the batsman which is leading run scorer of the tournament.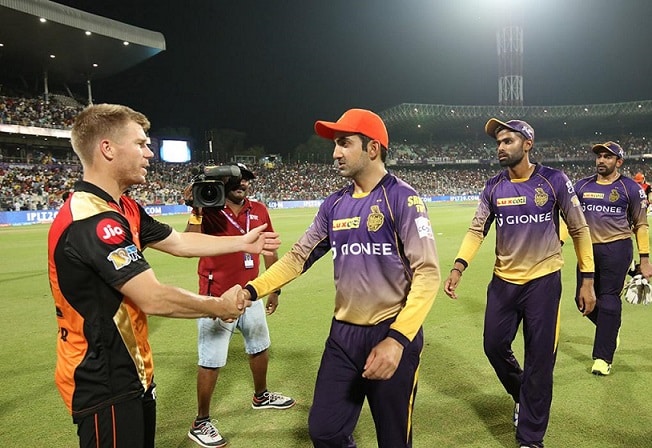 Total 60 matches to be played in the league between 8 teams. The team who manage to secure their position in the top 4 into the league Points table will qualified to the play-offs of the tournament. There are around 23+ players in each team's squad and more than 50+ batsman of Indian premier league are ready to grab this reward but here we will include only Top 10 batsman of IPL 10 in the list with most run in the tournament.
Here is the Orange Cap Holder/winner of IPL 2017 and the List of top batsman with maximum run and highest individual score in the tournament :-
Batsman
Innings
Total Runs
Highest score
Avg

David Warner
(SRH)
14
641
126 vs KKR
60.40
Shikhar Dhawan
(SRH)
14
479
77 vs KXIP
39.00
Gautam Gambhir
(KKR)
14
454
76* vs GL
41.27
Suresh Raina
(GL)
14
442
84 vs KKR
40.18
Steve Smith
(RPS)
14
421
84* vs MI
42.00
Hasim Amla
(KXIP)
10
420
104* vs MI
60.00
Manish Pandey
(KKR)
13
396
81*
49.50
Rahul Tripathi
(RPS)
13
388
93
32.33
Robin Uthapa
(KKR)
11
386
87
35.09
Sanju Samson
(DD)
14
386
102 vs RPS
27.57
Update: Virat kohli scored 973 runs in 15 innings and becomes the winner of Orange Cap of the 2016 season…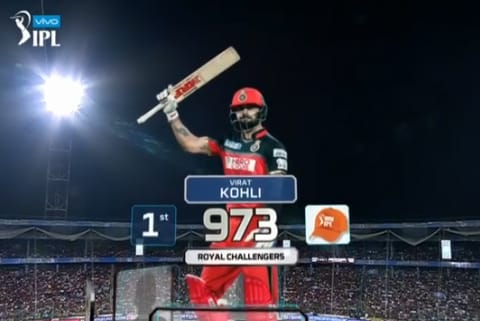 The table will receive updates as soon as match starts and runs scored by the batsman. Keep visiting this page for better stats as the list is updated daily also while match is going on….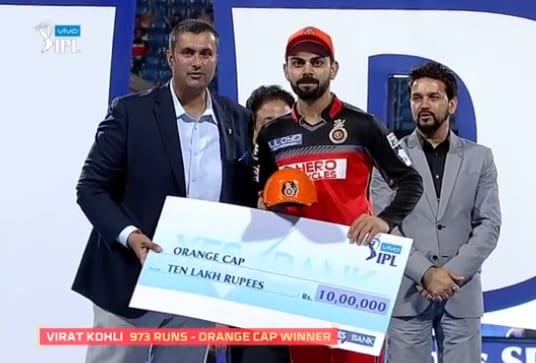 Have a Look: Full Award Ceremony of Indian Premier league 2016
 Other Stats :-