ICC T20 World Cup 2016 one of the biggest cricket tournament starting from 15th March 2016 in India. Top 2 teams from each group of Super 10 will go to the Semi-finals. The team ranking will be decided by T20 World Cup 2016 Points table which is given below. Total 16 teams came to India to participate in the tournament. Eight well-known teams got direct entry to the league where 8 other teams have to play the qualifier round and the two team which will top the qualifiers round will be the other 2 teams of Super 10 round.
In Super10 stage two Groups are formed Group 1 comprises England, South Africa, Sri Lanka, West Indies and the Qualifier winner Afghanistan and the Group 2 having Australia, New Zealand, India, Pakistan and the 2nd Qualifier team. In Qualifier Round again two groups are formed, Group A: Bangladesh, Oman, Ireland, and Netherlands, Group B: Afghanistan, Zimbabwe, Scotland, Hong Kong.We have witnesses the qualifiers out of which Afghanistan became the first to get ticket by beating Zimbabwe and the winner of Bangladesh vs Oman match will be the second team.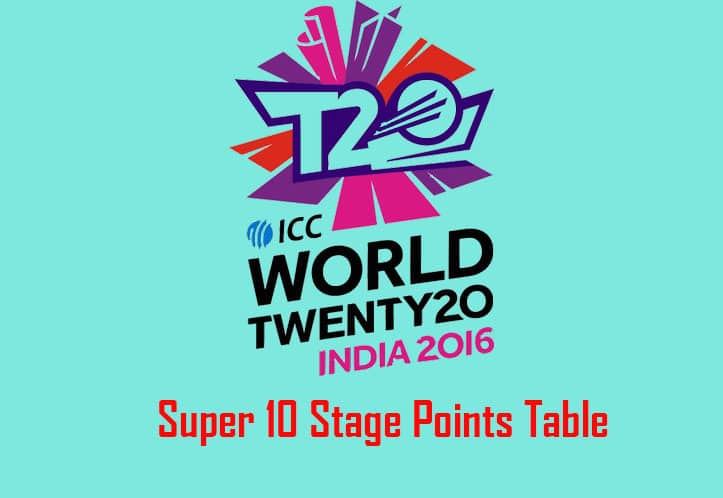 From 15th March with India vs New Zealand match the tournament will start. Each team will play 4 matches with his own group teams and the team which will rank on 1st and 2nd position in the Super10 points table of T20 World Cup 2016 in each group will play the Semi-finals of the tournament. The Net Run Rate will be very crucial for each team as it will decide the rank of each team having equal point and in 80% of the cases the net run rate comes into play. So all the teams have to keep in their mind if they want to go forward in the tournament they have to win matches and win good difference or margin so that their NRR will be high.
Update: West Indies and England Qualifies to semi finals from Group 1 and New Zealand from Group 2, one more team will join the semi finals after IND vs AUS Quarter Final match of the tournament.
Update: India defeated Australia and became the fourth semi finalist of the tournament.
New Update: England won the first semifinal against New Zealand and entered into the final of the ICC T20 World Cup 2016.
Here is the World T20 2016 points table of Super10 Stage :-
Group 1 :-

Group 2:-

Keep visiting this page regularly for better team ranking updates.