The super10 stage matches are going in ICC T20 World Cup 2016. Two groups are formed having 5 teams each Group 1 and 2. We have seen matches where New Zealand defended a low score and a Match where West Indies chase down a big total of 183 runs in just 19th over. So no one can predict the winning team in the tournament. Today on 17th March in Men category we have only one Match from Group 1 Sri Lanka vs Afghanistan of T20 World Cup 2016 which will be played at Eden Gardens, Kolkata. The match will start at 7:30 pm.
Preview of the Match :
Afghanistan team came from the qualifier round where they won all the 3 qualifying matches and became the participant of the super10 round of the tournament. All the players of them are playing good cricket. In the leading run scorer table their batsman Mohammad Shahzad is on the second position scored 142 runs in just 3 matches.
Sri Lanka will play their first match of the World T20 2016 and it will against a small Asian team. The recent Asia cup tournament was not good for Sri Lanka only won 1 matches out of four and didn't qualify to the finals of the tournament. Hope they have learnt a lot from their mistakes done in the past and will not take this upcoming match lightly since Afghanistan looking good and can surprise us all today.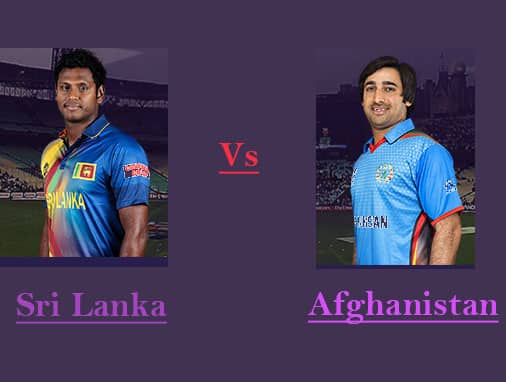 In the Sri Lanka vs Afghanistan match, the match will start under the stars so the toss will be very crucial as due factor came into play in the second innings. If we look onto the previous 5 games of both the team, Sri Lanka won only 1 game where Afghanistan won all their 5 games. So the confidence of the Afghani players will be high and they will try to maintain their winning anthem on in this match too where captain Angelo Mathews will look forward for their first win of the T20 World Cup to gain all the boost and confidence they required.
Here is the squads of both the teams :-
Afghanistan Squad :-
Asghar Stanikzai (Captain)
Noor Ali Zadran
Mohammad Shahzad
Usman Ghani
Mohammad Nabi
Karim Sadiq
Shafiqullah
Rashid Khan
Amir Hamza
Dawlat Zadran
Shapoor Zadran
Gulbadin Naib
Samiullah Shenwari
Najibullah Zadran
Yamin Ahmadzai
Sri Lanka Squad :-
Lasith Malinga
Angelo Mathews (Captain)
Dinesh Chandimal (wk)
Tillakaratne Dilshan
Niroshan Dickwella (wk)
Shehan Jayasuriya
Milinda Siriwardena
Dasun Shanaka
Chamara Kapugedera
Nuwan Kulasekara
Dushmantha Chameera
Thisara Perera
Sachithra Senanayake
Rangana Herath
Jeffrey Vandersay
Here is the Sri Lanka vs Afghanistan T20 World Cup 2016 Match Detail :-
Match 4th, Group 1, Super10
                Vs
Venue
Eden Gardens, Kolkata 
Date
17th March 2016
Time
7:30 pm (Local Time)
Toss
Afghanistan won the toss and opted to bat first
The Match updates will be shown here..
Match Result : Sri Lanka won the match by 6 wickets.
Man of the Match : Dilshan
Match Scorecard :-
Afghanistan innings (20 overs maximum)
R
M
B
4s
6s
SR
Mohammad Shahzad†
c Chameera b Mathews
8
13
12
1
0
66.66
Noor Ali Zadran
b Herath
20
38
23
3
0
86.95
Asghar Stanikzai*
c †Chandimal b Perera
62
74
47
3
4
131.91
Karim Sadiq
c †Chandimal b Perera
0
6
7
0
0
0.00
Mohammad Nabi
lbw b Herath
3
4
4
0
0
75.00
Samiullah Shenwari
c Perera b Kulasekara
31
23
14
3
2
221.42
Shafiqullah
c Thirimanne b Perera
5
12
7
0
0
71.42
Dawlat Zadran
not out
5
7
3
0
0
166.66
Najibullah Zadran
not out
12
5
3
1
1
400.00
Extras
(lb 1, w 6)
7
Total
(7 wickets; 20 overs)
153
(7.65 runs per over)
| | | | | | | | | | |
| --- | --- | --- | --- | --- | --- | --- | --- | --- | --- |
| Bowling | O | M | R | W | Econ | 0s | 4s | 6s |   |
| AD Mathews | 3 | 0 | 17 | 1 | 5.66 | 9 | 2 | 0 | (2w) |
| KMDN Kulasekara | 4 | 0 | 43 | 1 | 10.75 | 9 | 4 | 2 | (1w) |
| PVD Chameera | 4 | 0 | 19 | 0 | 4.75 | 8 | 0 | 0 | (2w) |
| HMRKB Herath | 4 | 0 | 24 | 2 | 6.00 | 14 | 1 | 2 | (1w) |
| NLTC Perera | 4 | 0 | 33 | 3 | 8.25 | 8 | 4 | 1 | |
| TAM Siriwardana | 1 | 0 | 16 | 0 | 16.00 | 0 | 0 | 2 | |
Sri Lanka innings (target: 154 runs from 20 overs)
R
M
B
4s
6s
SR
LD Chandimal†
c Samiullah Shenwari b Mohammad Nabi
18
22
17
2
1
105.88
TM Dilshan
not out
83
83
56
8
3
148.21
HDRL Thirimanne
b Rashid Khan
6
14
13
1
0
46.15
NLTC Perera
run out (†Mohammad Shahzad)
12
14
8
0
1
150.00
CK Kapugedera
run out (Mohammad Nabi)
10
13
9
1
0
111.11
AD Mathews*
not out
21
17
10
3
1
210.00
Extras
(b 4, w 1)
5
Total
(4 wickets; 18.5 overs)
155
(8.23 runs per over)
| | | | | | | | | | |
| --- | --- | --- | --- | --- | --- | --- | --- | --- | --- |
| Bowling | O | M | R | W | Econ | 0s | 4s | 6s |   |
| Karim Sadiq | 2 | 0 | 21 | 0 | 10.50 | 4 | 1 | 2 | |
| Hamid Hassan | 3.5 | 0 | 38 | 0 | 9.91 | 6 | 5 | 1 | |
| Dawlat Zadran | 3 | 0 | 31 | 0 | 10.33 | 7 | 3 | 2 | (1w) |
| Mohammad Nabi | 4 | 1 | 25 | 1 | 6.25 | 9 | 2 | 0 | |
| Rashid Khan | 4 | 0 | 27 | 1 | 6.75 | 11 | 3 | 1 | |
| Samiullah Shenwari | 2 | 0 | 9 | 0 | 4.50 | 6 | 1 | 0 | |