The Match 24th of CPL 2016 will be played on 26th July at Darren Sammy National Cricket Stadium. It will be STZ vs TKR, the last match on Zouks home ground of 2016. This will be very important match between both the team. The team which will win the game will enhance their chances to get qualified into the play-offs of the Caribbean Premier league. The St Lucia Zouks vs Trinbago Knight Riders match 24th will start at 18:00 pm (local). Check list of  Global broadcasting channel of CPL 2016 here for each country. The STZ vs TKR Match prediction is all ready for our viewers. Each cricket fans want to know which team have higher chances of winning this upcoming game. We have included the performance of each team with their head to head comparison and also the toss prediction too in this article.
Teams Performance at a Glance :-
Here are the performance of both the team in the tournament so far :-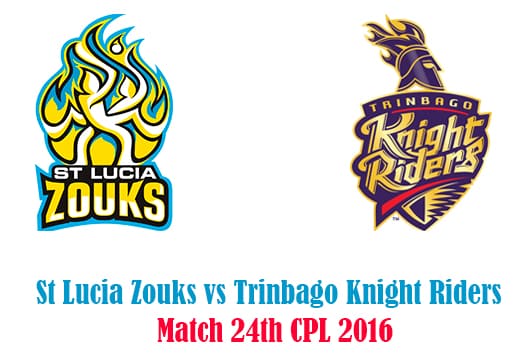 St Lucia Zouks :-
Team is representing St Lucia island of Caribbean in the tournament and they are participating in Caribbean premier league from the inaugural season. So far three season has been concluded but on none of the occasions they qualified into play-offs.
In CPL 2016 they have surprised every one with their performance. They won their first match against the Trinbago Knight Riders but after that they lost 3 in a row which pushed them lower on the points table. But now by winning 3 matches in a row on their home ground pushed them on the 3rd place. They have won total 4 matches out of 7 they have played so far and earned total 8 points. They are just two points behind the Guyana Amazon warriors who are on the 2nd position with 10 points.
They have defeated GAW in the Match 24 by 9 wickets which is one of the biggest victory for them in CPL T20 2016. They have chased down the target of 160 runs in just 16.1 overs and won the match by 9 wickets. This will be the last match for STZ on their home ground and if they won the match, they will be on the 2nd position.
Trinbago Knight Riders :-
The team also playing in the CPL from the first season and they have won the title last year by defeating Barbados Tridents. The team is having many talented players which can turn the game at any moment. The team is headed by Dwayne Bravo.
In CPL 2016 they have little disappointed their fans, won only 3 matches so far out of 7 and with 6 points they are on the 5th position in the CPL Points table. If they want to qualify into the play-offs each upcoming match is important for them. They have to win this match so that again they will be in top 4 team.
TKR have played their last match against the Jamaica Tallawahs where they were unable to chase 159 runs and lost the match by 19 runs. That was match 19th of the CPL 2016. Hope in the upcoming match they will not repeat their mistakes back and give what their fans wants from theme.
Match Details :
 St Lucia Zouks vs Trinbago Knight Riders 24th CPL 2016
                 Vs
Venue
Darren Sammy National Cricket Stadium, Gros Islet
Date
26th July 2016
Time
 18:00 pm (Local Time)
Result

Trinbago Knight Riders Won by 3 wickets
STZ vs TKR Match Prediction: Who will win Match 24th of CPL 2016 :-
The prediction of the match is what all the fans want to know. We have looked onto the performance of both the teams, the players they have and made out STZ vs TKR Prediction. So according to us , Trinbago is going to win the match 24 of CPL 2016 on 26th July 2016 .
Winning Percentage :-
Update: Trinbago Knight Riders Won by 3 wickets
Score :
Zouks : 167/6 in 20 overs
Trinbago: 168/7 in 19 overs
Man of the Match: Umar Akmal
St Lucia vs Trinbago Toss Prediction :-
Toss is always helpful to the teams as they know the pitch and can choose whether to bat first or ball first as per their strategy. In the Upcoming match, STZ is going to win the toss and will go for the ball first .
STZ vs TKR Head to Head Comparison :-
In CPL 2016, both the team have face each other ones and it was the 1st match of the tournament where St Lucia Zouks have defeated them by 6 wickets. So they are ahead of TKR this year by 1-0 and now Knight Riders have perfect opportunity to give them back and make the accounts level by winning the match.
If we look on overall head to head comparison then Trinbago are head of Zouks. Out of 6 matches TKR have won 3 matches and St Lucia have won only 2. The one was has no result due to match was abandoned. Just have a look :-
Total Match Played : 6 
STZ won: 2 
TKR won: 3 
No result: 1
Match Poll : 
[poll id="11″]
So what you think who will win match 24th of CPL 2016 on 26th July ? Trinbago or Zouks ?