From 3rd June the West Indies Tri Series 2016 between 3 nations has been started. Australia and South Africa are on the tour of Caribbean islands for 10 Matches Tri-Nation ODI series in which each team will play 6 matches and the 2 team who will manage to secure their position on the top of Points table will play the finale of series. The first match was played between West Indies and South Africa where Caribbean team defeated the Proteas by 4 wickets and will have our first update in our WI vs AUS vs SA 2016 series Points table.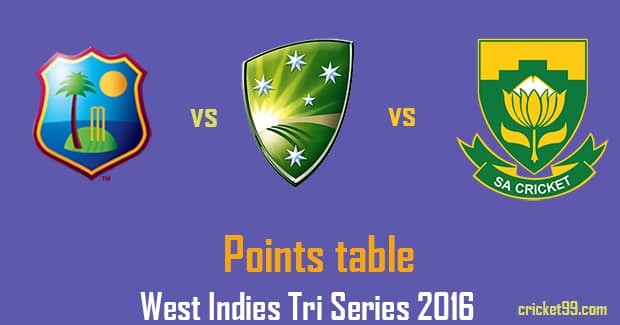 The winning team will be awarded 2 points and the losing team will get no points. Total nine matches will be played before the finale and the 2 teams which will be having highest points will play the finale on 26 June 2016 at Kensington Oval. You can check schedule of ODI Triangular Series for more details.
Before the starting of the triangular series, Australia is looking dominating but after the first match West indies team have shown the Tourists that they can give tough fight to them and also can win the series. What a performance from Sunil Narine, 6 Wickets in his first match and restricted South African team on just 188 runs in 46.5 over at the loss of 10 wickets.
So the series is going to be very interesting and entertaining for sure. After watching first match no one can predict the two finalist. All three of the teams have quality players and true match winners in their squads. Only the time will decide the teams which will battle for the title.
Here is the West Indies Tri series 2016 Points table and the team standing :-
| | Teams | Mat | Won | Lose | Tie | Points |
| --- | --- | --- | --- | --- | --- | --- |
| | Australia | 06 | 03 | 02 | 01 | 15 |
| | West Indies | 06 | 03 | 03 | 00 | 12 |
| | South Africa | 06 | 02 | 02 | 01 | 12 |
Update: Australia and West Indies are entered into the final of Tri series which will be played on 26th June 2016.
Update: Australia won the Tri Series by defeating West Indies in the finale by 58 runs.
Keep visiting the page for better stats ranking. We are updating the table after each and every match.