In ICC T20 World Cup 2016 another important match coming today Australia vs Bangladesh T20 which will be played at Chinnaswamy stadium Bengaluru. The live score of Aus vs Ban T20 match will be broadcast on Star Sports Network from 7:30 pm. Both the team knows the importance of this match as both of them lost their first match and now on last of the points table of T20 World cup 2016.
Australian team looking stronger in front of Bangladesh but anything can happen in the game of cricket. Recently South Africa and India visited Bangladesh for 3 matches ODI series where tigers defeat both of them. So they can bite back in the upcoming match from group 2 of Super 10 round of the tournament.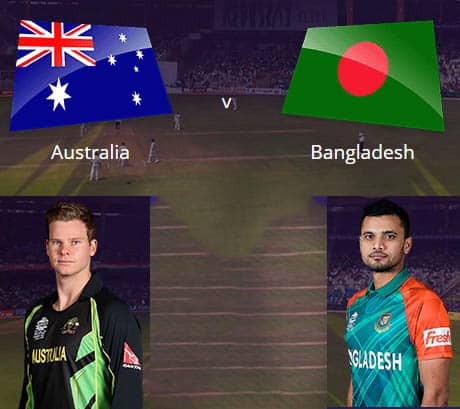 If we look onto the previous performance of both the team, In January end Australia lost T20 series against India by 3-0 but just 2 weeks before from now, won T20 series against South Africa by 2-1. So if we look overall, in the last five t20 match 2 win only for them.
As far as Bangladesh performance is concerned they reached to the Asia cup final and also qualified to the World T20 2016 and out of 5 recent matches they won 2 matches with 1 tie. So both the team are almost equal in the terms of recent performance but since Australia is a big team having big players in their squad, looking stronger than Bangladesh. Today's match is much important for both the teams if they want to alive in the tournament a much-needed win is required with a good difference so that net run rate of the team can improve.
Also Check : Highest Run Scorer of the tournament
The live score of Aus vs Ban match of T20 world cup 2016 will be covered here. As match started it will be shown in the end of the article.
Here is the details of the Match :-

Group 2, Super10 Round
                Vs
Venue
 M. Chinnaswamy Stadium, Bengaluru
Date
21 March 2016
Time
7:30 pm (Local Time)
Toss
Aus won the toss and elected to field first
Have a look : Most Hundred by a batsman in T20 Cricket
Here is the Scorecard of the Australia vs Bangladesh Match of T20 World Cup 2016 :-
Bangladesh innings (20 overs maximum)
R
M
B
4s
6s
SR
Mohammad Mithun
c Watson b Zampa
23
44
22
1
1
104.54
Soumya Sarkar
c Maxwell b Watson
1
6
6
0
0
16.66
Sabbir Rahman
c Faulkner b Watson
12
18
17
2
0
70.58
Shakib Al Hasan
c Coulter-Nile b Zampa
33
44
25
3
1
132.00
Shuvagata Hom
lbw b Zampa
13
9
10
1
1
130.00
Mahmudullah
not out
49
38
29
7
1
168.96
Mushfiqur Rahim†
not out
15
23
11
2
0
136.36
Extras
(lb 7, w 3)
10
Total
(5 wickets; 20 overs)
156
(7.80 runs per over)
| | | | | | | | | | |
| --- | --- | --- | --- | --- | --- | --- | --- | --- | --- |
| Bowling | O | M | R | W | Econ | 0s | 4s | 6s |   |
| NM Coulter-Nile | 4 | 0 | 21 | 0 | 5.25 | 11 | 2 | 0 | |
| SR Watson | 4 | 0 | 31 | 2 | 7.75 | 9 | 4 | 0 | (3w) |
| JW Hastings | 3 | 0 | 24 | 0 | 8.00 | 9 | 3 | 1 | |
| MR Marsh | 1 | 0 | 12 | 0 | 12.00 | 2 | 1 | 1 | |
| GJ Maxwell | 1 | 0 | 12 | 0 | 12.00 | 2 | 1 | 1 | |
| A Zampa | 4 | 0 | 23 | 3 | 5.75 | 9 | 1 | 1 | |
| JP Faulkner | 3 | 0 | 26 | 0 | 8.66 | 4 | 4 | 0 | |
Australia innings (target: 157 runs from 20 overs)
R
M
B
4s
6s
SR
UT Khawaja
b Al-Amin Hossain
58
61
45
7
1
128.88
SR Watson
run out (Sabbir Rahman/†Mushfiqur Rahim)
21
34
15
2
1
140.00
SPD Smith*
b Mustafizur Rahman
14
16
13
0
1
107.69
DA Warner
c & b Shakib Al Hasan
17
14
9
1
1
188.88
GJ Maxwell
st †Mushfiqur Rahim b Shakib Al Hasan
26
21
15
2
2
173.33
MR Marsh
c Shakib Al Hasan b Mustafizur Rahman
6
10
6
1
0
100.00
JP Faulkner
not out
5
11
3
1
0
166.66
JW Hastings
c Soumya Sarkar b Shakib Al Hasan
3
4
4
0
0
75.00
PM Nevill†
not out
1
2
1
0
0
100.00
Extras
(lb 2, w 4)
6
Total
(7 wickets; 18.3 overs)
157
(8.48 runs per over)
| | | | | | | | | | |
| --- | --- | --- | --- | --- | --- | --- | --- | --- | --- |
| Bowling | O | M | R | W | Econ | 0s | 4s | 6s |   |
| Mashrafe Mortaza | 1 | 0 | 9 | 0 | 9.00 | 3 | 0 | 1 | |
| Mahmudullah | 2 | 0 | 22 | 0 | 11.00 | 1 | 1 | 1 | (1w) |
| Al-Amin Hossain | 2 | 0 | 14 | 1 | 7.00 | 5 | 2 | 0 | |
| Mustafizur Rahman | 4 | 0 | 30 | 2 | 7.50 | 12 | 2 | 2 | (1w) |
| Shakib Al Hasan | 4 | 0 | 27 | 3 | 6.75 | 10 | 4 | 0 | |
| Saqlain Sajib | 3.3 | 0 | 40 | 0 | 11.42 | 5 | 4 | 2 | (1w) |
| Shuvagata Hom | 2 | 0 | 13 | 0 | 6.50 | 2 | 1 | 0 | |