The grand cricket tournament T20 World Cup 2016 comes to end today with West Indies vs England Final Match whose result is about to come. Now the award ceremony will be held where various awards and trophies will be distributed to the different players and one of them is Man of the Series award of T20 World Cup 2016, best batsman of the tournament and one to the Best bowler who took most wickets in the World T20. So all cricket fans are waiting to hear the name of the player which will be selected as man of the tournament.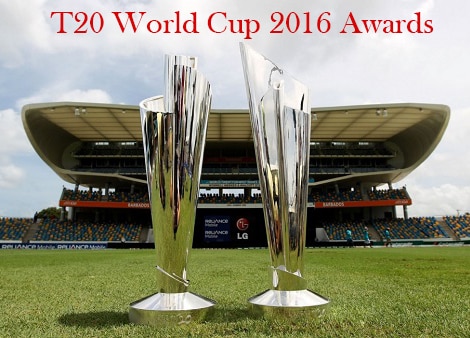 There are many players which are in the race like Indian batsman Virat Kohli who is the leading run scorer (273 runs) in the WC T20 if we leave the qualifier matches, Followed by Joe Root England Batsman scored 249 runs so far in the series.
Just like that there are few bowlers which are in the list for the best Bowler award of World T20 like New Zealand spinner Ish Sodhi who took 10 wickets so far in 5 innings, Mitchell Santner with same no of wickets. If we include qualifier matches than Afghanistan bowler Mohammad Nabi is the highest wicket taker of the tournament with 12 wickets in 7 innings. So things are not clear so far. We have to wait for the presentation ceremony where the awards will be distributed and one of the main is Man of the Tournament.
Here is the Full list Players and the teams which are selected for different awards and Trophy :-
Award
Player/Team
Performance
Price
Man of the Series/Tournament
Virat Kohli
(India)
273 in 5 innings and 1 wickets
Trophy and a Watch
Best Batsman
Virat Kohli
(India)
273 runs
No Award
Best Bowler
Ish Sodhi
(New Zealand)
10 wickets in 05 innings
No Award
Best Team (Winner)
West Indies by 4 wickets
Chase down 155 run target in 19.4
World T20 2016 Trophy
What you think which cricketer should be selected for the best player of the tournament ?
Update: Virat Kohli is selected as Player of the Tournament but he is not present in Kolkata that's why Sourav Ganguly collected the trophy from his side.
Check IPL 2016 Award Ceremony.
Have a Look : Top 10 batsman of the Tournament
Also Check : Biggest Six of the tournament