Just after India's tour of West Indies, New Zealand cricket team will be on the tour of India for 3 test matches and 5 ODI match series. So Man in Blues will be in action again in their home. The India vs New Zealand 2016 series schedule is not announced yet but the venues for Test as well as One day International series between both the nation has been announced. After a long time Team India will be playing test cricket on his land and it will first time of 2016 year.
Update (28 June 2016): The schedule of the New Zealand tour of India 2016 has been announced by the BCCI and it will start with the first test match which will be played between 22 September 2016 – 26 September 2016 at Green Park stadium, Kanpur. The ODI Series will start from 8 October 2016. Full Fixture given below .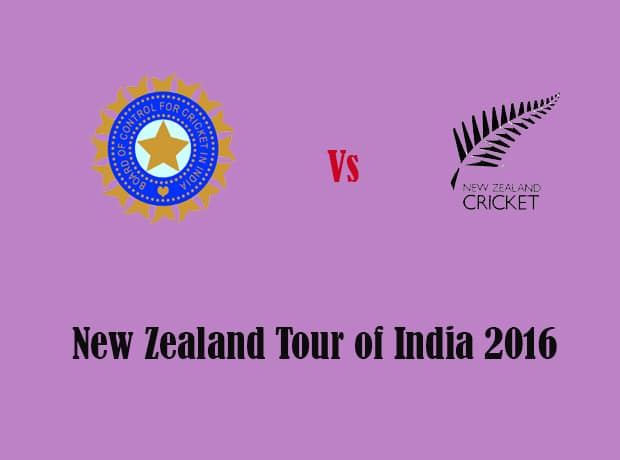 Recently Team IND visited Zimbabwe for a ODI and T20 series than a test match series against West Indies in Caribbean and after that NZ cricket team will fly to Bharat for a full pack cricket game having flavor of test as well as ODI too. There will be no T20 Match between both the teams which every cricket fan will miss.
The dates for the series not confirmed yet but it is expected that the first test match will be played in the third week of September and till the end of October 2016 the ODI series will be concluded. The venues for both the formats has been announced. Indore, Kanpur and Kolkata will host the 3 test matches between India and New Zealand where Kotla, Mohali, Ranchi, Vizag and Dharamsala will host the ODI series against Kiwis.
Here is the schedule of both series with all the details available to us :-
India vs New Zealand 2016 Test Series Schedule :-
Three test matches are to be played between the man in blues and Black caps at 3 different venues of India. Check full Fixture of the Test Series :-
Date
Match
Venue
22 Sep - 26 Sep 2016
10:00 AM

IND vs NZ 2016 1st Test Match




VS

Green Park, Kanpur


30 Sep- 4 Oct 2016
10:00 AM

IND vs NZ 2016 2nd Test Match




VS

Holkar Cricket Stadium, Indore


8 Oct- 12 Oct 2016
9:00 AM

IND vs NZ 2016 3rd Test Match




VS

Eden Gardens,Kolkata


India vs New Zealand 2016 ODI Series Fixtures :-
Total of 5 ODI matches will be played the Kiwis and the Team India at 5 different beautiful cricket stadium of India. All the matches will be played in the sun shine, so no day  night match in the series. Here is the full timetable of ODI series :-
Date

Match
Venue
16th Oct 2016
10:00 AM

IND vs NZ 2016 1st ODI Match




VS

HPCA Stadium, Dharamsala



19th Oct 2016
10:00 AM

IND vs NZ 2016 2nd ODI Match




VS

Kotla, Delhi

23rd Oct 2016
10:00 AM

IND vs NZ 2016 3rd ODI Match




VS

PCA, Mohali


26th Oct 2016
10:00 AM

IND vs NZ 2016 4th ODI Match




VS

JSCA Stadium, Ranchi


29th Oct 2016
10:00 AM

IND vs NZ 2016 5th ODI Match




VS

ACA-VDCA Stadium, Visakhapatnam

The dates and the timing will be updated as soon as BCCI makes any official announcement (Updated now). Virat Kohli will be leading the Indian Test team where in the limited over format captain cool Mahendra Singh Dhoni will be in skipper. The teams of both the nations for the upcoming series is not announced yet. The responsibility of the New Zealand squad may be given to Kane Williamson as he is the current captain of the team. No doubt it will tough fight for the Black caps to tackle India in their home. Fans are very excited to see their favorite player back in the action at their home ground.
Are you ready for the battle, who will win the series, The Kiwis or the Virat & Dhoni Brigade ? Show your views in the comments.