England Cricket Board (ECB) and Board of Control for Cricket in India (BCCI) both have confirmed the England tour of India 2016-17 . The schedule is out. The tour includes all the three formats of cricket. First a Five matches Test series will be played, then 3 Matches ODI series and in the end 3 T20 match series will be played between both the nation. It will be a long tour for British cricket team (November 2016 to February 2017) . IND vs ENG 2016-17 schedule is announced by both the board yesterday and the first test match will be played from 9th November 2016. The tour will end with the last T20 match on 1st February 2017. It will be fourth occasion when England cricket team will tour India for cricket series.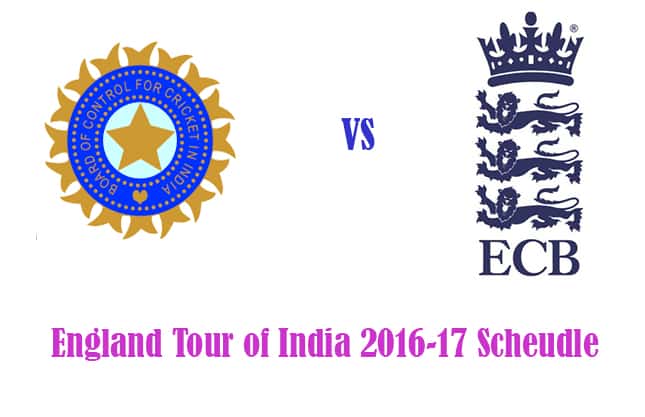 Before this, New Zealand will visit India for the Test match & ODI series in September and it will last to October 2016.  Before this in month of July India will be on the tour of West Indies for a 4 Match Test Series which will end till August . So lot of cricket for Man in blues this year, specially Test cricket.
England Cricket team is also have very pack schedule this year. In the month of May – June, Sri Lanka was on the tour of U.K. for Test, ODI & T20 series. From July 2016 to September 2016 Pakistan will be visiting England for a complete cricket tour. So the Eng team also having lot of cricket before this series.
The Indian squad for the series hasn't announced yet by the BCCI but we know Virat Kohli will be leading the test team where  MS Dhoni the Captain cool will be the captain of the limited over edition games. England team is also to announced by ECB, Alastair Cook may be the captain of the team. Will update the squads as soon as respective boards confirms the team of both the nation.
Please Find the England tour of India 2016-17 Fixtures with Dates & Venues :–
Test Match Fixtures :-
IND vs ENG 2016-17 Test Series Schedule

Date
Match
Venue
9 Nov - 13 Nov 2016


India vs England 2016 1st Test Match



VS

Rajkot


17 Nov - 21 Nov 2016


India vs England 2016 2nd Test Match



VS

Vizag


26 Nov - 30 Nov 2016


India vs England 2016 3rd Test Match



VS

Mohali


8 Dec - 12 Dec 2016


India vs England 2016 4th Test Match



VS

Mumbai


16 Dec - 20 Dec 2013


India vs England 2016 5th Test Match



VS

Chennai


ODI Match Fixtures :-
IND vs ENG 2016-17 ODI Series Schedule

Date
Match
Venue
15 Jan 2017


India vs England 2017 1st ODI Match



VS

Pune


19 Jan 2017


India vs England 2017 2nd ODI Match



VS

Cuttack


22 Jan 2017


India vs England 2017 3rd ODI Match



VS

Kolkata


T20 Match Fixtures :-
IND vs ENG 2016-17 T20 Series Schedule

Date
Match
Venue
26 Jan 2017


India vs England 2017 1st T20 Match



VS

Kanpur


29 Jan 2017


India vs England 2017 2nd T20 Match



VS

Nagpur


1 Feb 2017


India vs England 2017 3rd T20I Match



VS

Bengaluru