Just after the Australia cricket team tour of south Africa for 5 ODI match series, the Proteas will be touring Australia for a Test series in which 3 test matches will be played between both the nation. The Australia vs South Africa 2016 test series Schedule is out now and it will start from 3rd November 2016 and will ends with the third test match which will be played 24 Nov- 28 Nov 2016. One of the most interesting thing about the test series is that the 3rd test match will be played under the lights. Yes it will be day-night test match which will be played with pink ball ( most probably). So it will be interesting to see how both the team will perform when they will face each other in flood lights with the pink ball.
Before this series, AUS will visit SA for a ODI Series in which 5 One day international matches will be played. It will be played between 30 Sep 2016 to 12 Oct 2016. Both the nation have played lot of cricket together and cricket fans love to watch the battle between both the teams as both are one of the most powerful team of the cricket world.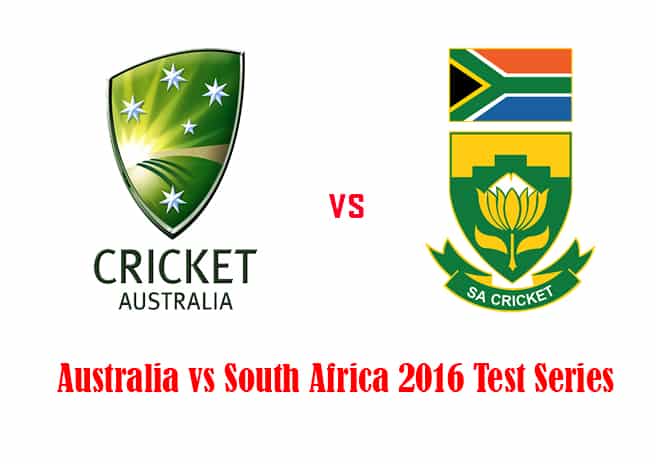 Currently South African squad is headed by AB de Villiers where Steven smith will be leading the Australian team. The squads of both the teams are still to be announced. No doubt it will be tough fight and the team who will stick to basics of cricket will come out as champion.
If we look at the current ICC Test Team rankings, Aussies holding 3rd place on the table where Proteas are way behind at 7th spot. So both the team have opportunity to improve their rankings, specially for South African team it will be perfect chance to bounce back.
Australia vs South Africa 2016 Test Series Schedule & Fixture :-
| DATE | MATCH | VENUE | TIME (LOCAL) |
| --- | --- | --- | --- |
| 3 Nov 2016 | AUS vs SA 2016 1st Test Match | WACA, Perth | 10:30 AM |
| 12 Nov 2016 | AUS vs SA 2016 2nd Test Match | Blundstone Arena, Hobart | 10:30 AM |
| 24 Nov 2016 | AUS vs SA 2016 1st Test Match | Adelaide Oval, Adelaide | 02:00 AM |
so what you think who will win this series ? Australia or South Africa ?