Qualifier round of T20 World cup 2016 is moving towards its end and will decide which team going to participate in the tournament. Today 9th qualifier match will be played between the Zimbabwe and the Afghanistan team at Vidarbha Cricket Association Stadium,Nagpur. This match is very important for both the team and today we will get our first team from Group B which is going to qualify for the world t20 as both the team have same 4 points and playing their last match of qualifiers. The live action of the match will start at 3:00pm from Nagpur.
If we look onto the stats Zimbabwe team looking strong ,captain Hamilton Masakadza is in very good form with the ball, took 5 wickets so far in 2 match , 4/28 his best bowling figure and on the 2nd spot in the highest wicket taker table of the tournament. If we look onto the batting performance Sean Williams, Vusi Sibanda, Elton Chingumura are in good touch and are included in leading run scorer list. So they are ready to given their 100% in the match.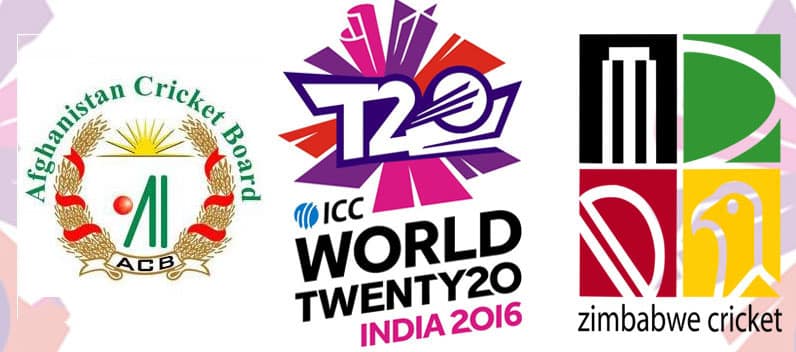 Afghanistan team won their two matches so far played against Hong Kong and Scotland with good difference due to which they are now on the top of the qualifying points table but today they have to win this match to become the part of T20 world cup 2016. Mohammad Shahzad, Noor Ali Zadran are doing good with the bat where Mohammad Nabi is on the top in top bowlers list by taking 5 wickets so far in the tournament with 4/20 best individual performance.
So both the team have that talent and match performers who can take away the match at any instant. As Zimbabwe team having more experience than Afghanistan, their winning chance is more but who knows what happen next as nothing is impossible in cricket.
Qualifier 9th Match Details :-
Date : 12th March 2016
Match : ZIM vs AFG
Timing: 3:00pm
Venue : VCA Stadium, Nagpur
Series: World T20
Toss: Afghanistan won the toss and elected to bat first.
Live score of the Match :
The match will start from 3:00pm (local time), we will update match score as soon as match started.
Match has been started now, here is the live score :-
Match Result: Afghanistan won the match by 59 runs and qualified to the T20 World Cup 2016
Afghanistan innings (20 overs maximum)
R
M
B
4s
6s
SR
Mohammad Shahzad†
c H Masakadza b Williams
40
21
23
7
1
173.91
Noor Ali Zadran
c Sikandar Raza b Panyangara
10
39
14
1
0
71.42
Asghar Stanikzai*
c Sikandar Raza b Panyangara
0
5
2
0
0
0.00
Gulbadin Naib
b Panyangara
7
8
7
1
0
100.00
Samiullah Shenwari
c Sibanda b Tiripano
43
50
37
4
1
116.21
Mohammad Nabi
run out (†Mutumbami)
52
54
32
4
2
162.50
Shafiqullah
not out
9
9
4
0
1
225.00
Dawlat Zadran
not out
0
2
1
0
0
0.00
Extras
(b 4, lb 4, w 17)
25
Total
(6 wickets; 20 overs)
186
(9.30 runs per over)
| | | | | | | | | | |
| --- | --- | --- | --- | --- | --- | --- | --- | --- | --- |
| Bowling | O | M | R | W | Econ | 0s | 4s | 6s | |
| WP Masakadza | 4 | 1 | 31 | 0 | 7.75 | 13 | 2 | 2 | (1w) |
| TL Chatara | 3 | 0 | 34 | 0 | 11.33 | 5 | 4 | 1 | (2w) |
| DT Tiripano | 3 | 0 | 41 | 1 | 13.66 | 4 | 5 | 0 | (4w) |
| SC Williams | 4 | 0 | 25 | 1 | 6.25 | 11 | 2 | 1 | |
| T Panyangara | 4 | 0 | 32 | 3 | 8.00 | 9 | 3 | 1 | |
| Sikandar Raza | 2 | 0 | 15 | 0 | 7.50 | 5 | 1 | 0 | (3w) |
Zimbabwe innings (target: 187 runs from 20 overs)
R
M
B
4s
6s
SR
V Sibanda
c Hamid Hassan b Rashid Khan
13
31
21
0
0
61.90
H Masakadza*
b Hamid Hassan
11
16
7
0
1
157.14
R Mutumbami†
c Najibullah Zadran b Mohammad Nabi
10
19
12
2
0
83.33
SC Williams
st †Mohammad Shahzad b Rashid Khan
13
20
16
1
0
81.25
MN Waller
b Samiullah Shenwari
7
9
10
0
0
70.00
Sikandar Raza
b Hamid Hassan
15
21
17
0
0
88.23
E Chigumbura
c Shafiqullah b Rashid Khan
10
10
10
0
1
100.00
WP Masakadza
b Dawlat Zadran
6
18
7
1
0
85.71
DT Tiripano
run out (Samiullah Shenwari)
2
4
4
0
0
50.00
T Panyangara
not out
17
12
7
0
2
242.85
TL Chatara
c Shafiqullah b Asghar Stanikzai
8
5
7
1
0
114.28
Extras
(lb 11, w 4)
15
Total
(all out; 19.4 overs)
127
(6.45 runs per over)
| | | | | | | | | | |
| --- | --- | --- | --- | --- | --- | --- | --- | --- | --- |
| Bowling | O | M | R | W | Econ | 0s | 4s | 6s |   |
| Dawlat Zadran | 4 | 0 | 30 | 1 | 7.50 | 11 | 2 | 1 | (1w) |
| Hamid Hassan | 3 | 0 | 11 | 2 | 3.66 | 9 | 0 | 0 | (1w) |
| Samiullah Shenwari | 4 | 0 | 31 | 1 | 7.75 | 8 | 3 | 1 | |
| Mohammad Nabi | 3 | 0 | 14 | 1 | 4.66 | 8 | 0 | 0 | (1w) |
| Rashid Khan | 4 | 0 | 11 | 3 | 2.75 | 14 | 0 | 0 | |
| Gulbadin Naib | 1 | 0 | 15 | 0 | 15.00 | 2 | 0 | 2 | |
| Asghar Stanikzai | 0.4 | 0 | 4 | 1 | 6.00 | 1 | 0 | 0 | |