Sagittarius Strikers is the another team of Masters Champions League owned by Anis Sajan, the managing director of Danube Group. Sajan said he is a cricket lover and invested his money in this league just because of his affection towards cricket. Earlier the strikers team owned by Orange Limited but two weeks ago, Sajan overtake the deal from the previous owner.
The team will be lead by one of the famous destructive opening batsman Adam Gilchrist. Daniel Vettori, Mahela Jayawardene are some big names from the team squad.
Sagittarius Strikers Team Squad :-
Here is the team squad for the MCL T20 2016 :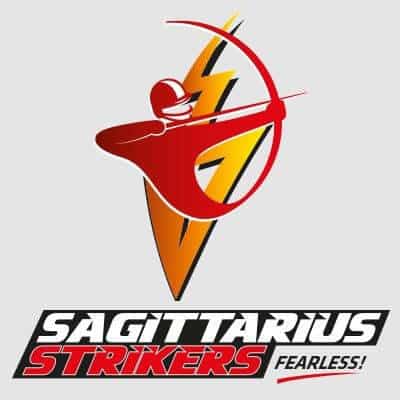 MAHELA JAYAWARDENE (SRI LANKA)
DANIEL VETTORI (NEW ZEALAND)
ADAM GILCHRIST (Captain ) (AUSTRALIA)
SHANE BOND (NEW ZEALAND)
KHURRAM KHAN (UAE)
PHIL MUSTARD (ENGLAND)
TINO BEST (WEST INDIES)
NATHAN HAURITZ (AUSTRALIA)
ALVIRO PETERSEN (SOUTH AFRICA)
MICHAEL CARBERRY (ENGLAND)
KRISHMAR SANTOKIE (WEST INDIES)
JONATHAN TROTT (ENGLAND)
YASIR HAMEED (PAKISTAN)
MUSHTAQ AHMED (PAKISTAN)
GAVIN HAMILTON (ENGLAND /SCOTLAND)
Also Check : Gemini Arabians  and Leo Lions Team Squad
MCL T20 Scheduled from 28 January 2016 – 13 February 2016 and on 29 January, you will see Sagittarius Strikers team in the action against Virgo Super Kings which is match no. 3rd of MCL T20. So be ready guys for such a great T20 league.