Big match is coming up today Pakistan vs Australia of ICC T20 World cup 2016. Match will be played at PCA stadium, Mohali. Pakistan has lost two matches and won only one against Bangladesh. It will be the last league match for them and If they win today and that is also with a big difference and India looses again Australia in the next match then only Pakistan make to the semi finals. So today's T20 match PAK vs Aus will be very crucial for both the teams.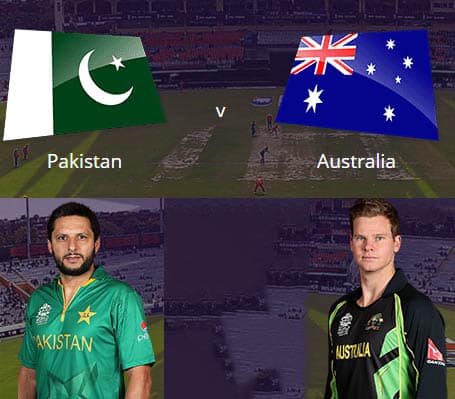 Australia also won only one match out of two they have played so far and If they won today than they will move to the second spot with 4 points in the points table as their net run rate is better than of India. After this match Ind vs Aus match will decide the second semifinalist from Group 2 of T20 world cup 2016. New Zealand won all their  matches they have played into the tournament and is the first semifinalist of the tournament.In Group 1, the picture is still not clear. West Indies is currently on the top with 4 points followed by England with same points.
In today's match Australia will look forward for a big win and keep their chances alive for the knockouts. Steve Smith, David Warner, Maxwell, Watson are some of the key players of their team which can finish the game single handily. Where Pakistan team performance is not that good during the tournament they lost against India and New Zealand and due to which their chances are very less for the knock outs.
Australia will not take this match lightly since Pak team have all the ability to win the match. Their bowling department is superb specially their pace attack. Mohammad Amir, Mahammad Sami, Wahab are in great form and taking wickets for their team at crucial time. They have to look onto their batting performance and if did well with bat today then Pakistan will surely win the match against Australia.
Here is the  squad for the PAK vs AUS Match of T20 World Cup 2016 :-
Pakistan Squad:-
Shahid Afridi (captain), Mohammad Hafeez, Shoaib Malik, Mohammad Irfan, Rumman Raees, Wahab Riaz, Mohammad Nawaz, Babar Azam, Iftikhar Ahmed, Mohammad Amir, Umar Akmal, Sarfraz Ahmed, Imad Wasim, Anwar Ali, Khurram Manzoor, Mohammad Sami
Australia Squad :-
Steve Smith (captain), David Warner (vice captain), Ashton Agar, Nathan Coulter-Nile, James Faulkner, Aaron Finch, John Hastings, Josh Hazlewood, Usman Khawaja, Mitchell Marsh, Glenn Maxwell, Peter Nevill, Andrew Tye, Shane Watson, Adam Zampa
The Live score of pakistan vs Australia T20 match will start at 3:00 pm (local) and you can check all the scorecard and live match score here.
Here is the Details of today's match of ICC T20 World Cup 2016 :-
  Group 2, Super10 PAK vs AUS
                Vs
Venue
PCA Stadium, Mohali
Date
25th March 2016
Time
3:00 pm (Local Time)
Toss
Aus won the toss and choose to bat first
Match score will be updated here as soon as match started .
Have A Look: Leading Run Scorer of Tournament
Match Results : Australia won the match by 22 runs and Pakistan is now out of the semi finals of the ICC T20 World Cup.

Man of the Match: James Faulkner for his bowling figure 5/27.
Check Points table here
PAK vs AUS T20 Match Scorecard :-
Australia innings (20 overs maximum)
R
M
B
4s
6s
SR
UT Khawaja
b Wahab Riaz
21
18
16
3
1
131.25
AJ Finch
b Imad Wasim
15
37
16
1
0
93.75
DA Warner
b Wahab Riaz
9
8
6
2
0
150.00
SPD Smith*
not out
61
62
43
7
0
141.86
GJ Maxwell
c Ahmed Shehzad b Imad Wasim
30
24
18
3
1
166.66
SR Watson
not out
44
28
21
4
3
209.52
Extras
(lb 8, w 5)
13
Total
(4 wickets; 20 overs)
193
(9.65 runs per over)
| | | | | | | | | | |
| --- | --- | --- | --- | --- | --- | --- | --- | --- | --- |
| Bowling | O | M | R | W | Econ | 0s | 4s | 6s |   |
| Mohammad Amir | 4 | 0 | 39 | 0 | 9.75 | 11 | 4 | 2 | (1w) |
| Mohammad Sami | 4 | 0 | 53 | 0 | 13.25 | 6 | 7 | 2 | (3w) |
| Wahab Riaz | 4 | 0 | 35 | 2 | 8.75 | 10 | 4 | 1 | |
| Shahid Afridi | 4 | 0 | 27 | 0 | 6.75 | 5 | 2 | 0 | |
| Imad Wasim | 4 | 0 | 31 | 2 | 7.75 | 5 | 3 | 0 | |
Pakistan innings (target: 194 runs from 20 overs)
R
B
4s
6s
SR
Sharjeel Khan
b Faulkner
30
19
6
0
157.89
Ahmed Shehzad
c Coulter-Nile b Hazlewood
1
6
0
0
16.66
Khalid Latif
b Faulkner
46
41
4
1
112.19
Umar Akmal
b Zampa
32
20
3
1
160.00
Shahid Afridi*
st †Nevill b Zampa
14
7
0
2
200.00
Shoaib Malik
not out
40
20
2
2
200.00
Imad Wasim
c Coulter-Nile b Faulkner
0
1
0
0
0.00
Sarfraz Ahmed†
c Khawaja b Faulkner
2
3
0
0
66.66
Wahab Riaz
c Hazlewood b Faulkner
0
1
0
0
0.00
Mohammad Sami
not out
4
2
1
0
200.00
Extras
(b 1, lb 1, w 1)
3
Total
(8 wickets; 20 overs)
172
(8.60 runs per over)
| | | | | | | | | | |
| --- | --- | --- | --- | --- | --- | --- | --- | --- | --- |
| Bowling | O | M | R | W | Econ | 0s | 4s | 6s |   |
| JR Hazlewood | 4 | 0 | 26 | 1 | 6.50 | 11 | 3 | 0 | (1w) |
| NM Coulter-Nile | 4 | 0 | 45 | 0 | 11.25 | 7 | 7 | 1 | |
| JP Faulkner | 4 | 0 | 27 | 5 | 6.75 | 11 | 2 | 1 | |
| SR Watson | 2 | 0 | 27 | 0 | 13.50 | 1 | 3 | 1 | |
| A Zampa | 4 | 0 | 32 | 2 | 8.00 | 6 | 1 | 2 | |
| GJ Maxwell | 2 | 0 | 13 | 0 | 6.50 | 4 | 0 | 1 | |