One of the most Popular and entertaining T20 cricket tournament IPL 2016 comes to end today. The Final match RCB vs SRH is going on between the two teams & we will have our winner shortly. After the match IPL Awards ceremony will be held in which different awards and prizes will be distributed to the players in different categories. Few of most popular are the Man of the series of IPL 2016, best batsman of the tournament (Orange cap), best bowler (Purple cap), best fielder, Fair play and  many more are there in the list . We have included all such awards in the list with the prize money given in that specific category.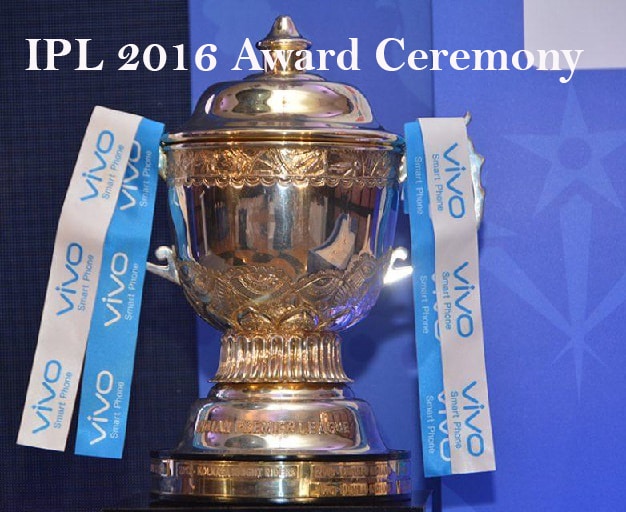 There are many players in the race of best Batsman who scored most runs are Virat Kohli, David Warner, AB de Villiers. In the Bowling category Bhuvneshwar Kumar, Yazuvendra Chahal, Shane Watson are there. But only one will be selected. There are some special category which includes Vitara Brezza Glam Shot Award which will be given to the batsman who have played an amazing shot in the IPL 9, Best Emerging Player of the season who will be the youngster who impressed every one with his performance. So such prize will be distributed in the presentation ceremony and don't forget the main one Man of the Series award.
The winner of final match will get the trophy and a winning amount money. The runner-up team will also get a pre-decided Prize money and the medallions. So we all are waiting for the Final match to ends and award ceremony to start.
Update: SRH won the grand Finale of Indian Premier League 2016
Here are the List of IPL 2016 Awards and their prize money given in the Presentation :-
Awards
Team/Player
Prize Money
Winning Team
Sunrisers Hyderabad
Rs 15 Crore
Runner-up Team
Royal Challengers Bangalore
Rs 10 Crore
Best Batsman
(Orange Cap)
Virat Kohli
(973 runs with 4 centuries)
Rs 10 Lakh
Best Bowler
(Purple Cap)
Bhuvneswar Kumar
(Total 23 wickets )
Rs 10 Lakh
Man of the Match
(IPL 9 Finale match)
Ben Cutting
(39 runs and 2 wickets)
Rs 5 Lakh
Vitara Brezza Glam
Shot of the Season
David Warner
(SRH)
Rs 10 Lakh &
Vitara Brezza Car
Emerging Player
of the Tournament
Mustafizur Rahman
(SRH)
Rs 10 Lakh
Free Charge Bolt
Season Award
AB de Villiers
(19 catches)
Rs 10 Lakh
Fair Play Award
Sunrisers Hyderabad
Trophy Only
Yes Bank Maximum
Sixes Award
Virat Kohli
(total 38 sixes )
Rs 10 Lakh
Best Catch
of the League
Suresh Raina
(catch at first slip )
Rs 10 Lakh
Most Valuable Player
Virat Kohli
Rs 10 Lakh
Fastest Fifty
Chris Morris
(on just 17 balls)
Rs 10 Lakh
Longest Six
Ben Cutting
(117 meters)
No Prize
Man of the Tournament
This year not Given
No Prize
Just stay with us, as soon as match ends and ceremony starts we will update in the above given list. Share you views in comments.
Have a look onto these interesting stats :-