Today on 29 January 2016 two matches will be played in Masters Champions League, 1st is Leo Lions vs Capricorn Commanders and 2nd Virgo Super Kings vs Sagittarius Strikers. Both the matches will be played on Dubai International Cricket stadium. First match will start at 3:00 pm (local time). We will cover all the live action of both matches here at cricket99.com. Lions will be headed by Brain Lara where Paul Collingwood will be the skipper of Commanders.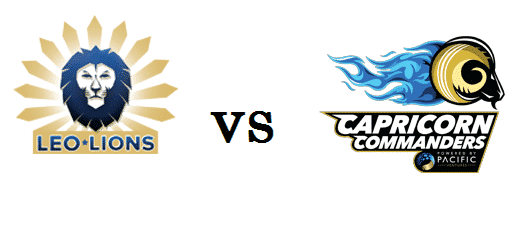 Leo Lions :-
Heath Streak
Scott Styris
Brain Lara
Herschelle Gibbs
Brendan Taylor
James Franklin
Johan Botha
Robin Peterson
Fidel Edwards
Mohammad Tauqir
Neil Carter
Hamish Marshall
Kyle Jarvis
Ramesh Power
Simon Jones
Darren Gough
Capricorn Commanders :
Paul Collingwood ( Captain)
Michael Vaughan
Abdul Razzaq
Andrew Symonds
Chamara Silva
Ashwell Prince
Upul Chandana
Ryan Mclaren
Jeetan Patel
Rikki Clarke
Rory Kleinveldt
Ben Laughlin
Rizwab Cheema
Geraint Jones
Sunil Joshi
Saleem Elanhi
Check : MCL T20 Schedule
Leo Lions Vs Capricorn Commanders Match 2nd :-
The match has just started at Dubai cricket ground, Lions vs Commanders MCL T20 live score given below :-
Toss : Leo opt to bat first.
LL :156/8 in 20 overs
CC : 130/8 in 20 overs
Match Result :Lions won the match by 26 Runs
Leo Lions Vs Capricorn Commanders Match 2nd Score card :
Here is the scorecard of the match –
Lions Batting card :
LEO LIONS
R
B
4's
6's
SR
MIN
HJH MARSHALL
run out (A Razzaq)
20
12
2
0
166.67
15
HH GIBBS
c R Clarke b RK Kleinveldt
3
8
0
0
37.5
16
RJ PETERSON
c GO Jones† b A Razzaq
9
13
1
0
69.23
17
BRM TAYLOR†
lbw b JS Patel
24
21
3
0
114.29
39
BC LARA*
c GK Berg b UDU Chandana
8
5
0
1
160
5
JEC FRANKLIN
c R Clarke b RK Kleinveldt
31
31
0
1
100
45
SB STYRIS
lbw b JS Patel
0
1
0
0
0
1
J BOTHA
not out
42
29
3
2
144.83
32
HH STREAK
run out (RK Kleinveldt/GO Jones†)
0
1
0
0
0
3
EXTRAS
(w 8, nb 1, b 6, lb 4)
13
TOTAL
(8 wickets; 20.0 overs)
156
7.80 RPO
Commanders bowling card :
CAPRICORN COMMANDERS
O
M
R
W
EC
AV
EX
A SYMONDS
1.0
0
7
0
7
–
RK KLEINVELDT
4.0
0
18
2
4.5
9.00
(w 1)
R CLARKE
2.0
0
12
0
6
–
(nb 1)
A RAZZAQ
1.0
0
11
1
11
11.00
B LAUGHLIN
4.0
0
41
0
10.25
–
(w 1)
UDU CHANDANA
3.0
0
20
1
6.67
20.00
PD COLLINGWOOD*
1.0
0
13
0
13
–
(w 2)
JS PATEL
4.0
0
24
2
6
12.00
Commanders Batting Scorecard :
CAPRICORN COMMANDERS
R
B
4's
6's
SR
MIN
AG PRINCE
c KM Jarvis b SB Styris
34
37
3
0
91.89
46
A SYMONDS
c HH Gibbs b HH Streak
21
21
3
0
100
43
LPC SILVA
c RJ Peterson b J Botha
7
12
0
0
58.33
23
PD COLLINGWOOD*
b FH Edwards
19
21
2
0
90.48
31
A RAZZAQ
c HH Gibbs b FH Edwards
7
10
0
0
70
16
RK KLEINVELDT
c HJH Marshall b FH Edwards
0
1
0
0
0
1
R CLARKE
b FH Edwards
5
6
1
0
83.33
11
GO JONES†
c J Botha b SB Styris
3
4
0
0
75
3
B LAUGHLIN
not out
4
5
0
0
80
8
UDU CHANDANA
not out
5
3
1
0
166.67
2
EXTRAS
(w 13, b 7, lb 5)
18
TOTAL
(8 wickets; 20.0 overs)
130
6.50 RPO
Lions Bowling card :
LEO LIONS
O
M
R
W
EC
AV
EX
FH EDWARDS
4.0
0
33
4
8.25
8.25
(w 2)
D GOUGH
1.0
0
12
0
12
–
(w 1)
J BOTHA
4.0
0
22
1
5.5
22.00
(w 2)
RJ PETERSON
4.0
0
19
0
4.75
–
(w 1)
HH STREAK
3.0
0
18
1
6
18.00
(w 1)
SB STYRIS
4.0
0
14
2
3.5
7.00