Like ICC World T20 for men, a tournament is also held for women. ICC is the governing authority for women's tournament. The first ICC Women's World T20 was held in 2009, hosted by England. The event runs parallel with men's T20 World Cup. The Women's World T20 2016 Schedule is out now which is given in the end of this post with the venue. Total eight teams participate in the tournament, 6 being the top teams in ICC ranking,three qualifiers and 1 the host team.
Till now 4 Women's World T20 has been organised and the fifth one is the upcoming event to be held in India from 15 March to 3 April 2016. The first ever World T20 Women was won by England in 2009. The next three tournaments are won by Australia only.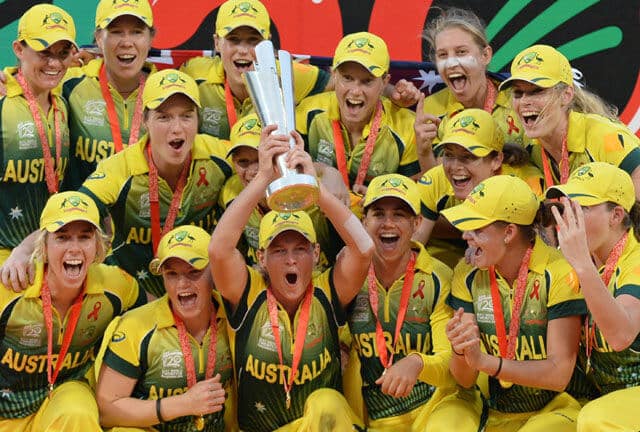 In 2016 edition the 10 teams which will participate are Australia, England, West Indies, South Africa, India, New Zealand, Pakistan, Sri Lanka, Ireland, Bangladesh. These 10 teams are divided in 2 groups of 5 each. Each team will play once with every other teams in the group. The top two teams of both group will qualify for the knock out stage. The winner of the knockout stage will meet in finals.
Group A (Women) : 
Group B (Women): 
The ICC Women's World T20 2016 time-table is given below :-
ICC Women World Twenty20 2016
Match 1
Tuesday, March 15, 2016

India vs Bangladesh
M. Chinnaswamy Stadium ,  Bangalore
Match 2
Tuesday, March 15, 2016

New Zealand vs Sri Lanka
Feroz Shah Kotla Ground ,  New Delhi
Match 3
Wednesday, March 16, 2016

West Indies vs Pakistan
M. A. Chidambaram Stadium, Chennai
Match 4
Thursday, March 17, 2016

England vs Bangladesh]
M. Chinnaswamy Stadium, Bangalore
Match 5
Friday, March 18, 2016

New Zealand vs Ireland
Punjab Cricket Association IS Bindra Stadium ,  Mohali
Match 6
Friday, March 18, 2016

Australia vs South Africa
Vidarbha Cricket Association Stadium ,  Nagpur
Match 7
Saturday, March 19, 2016

India vs Pakistan
Feroz Shah Kotla Ground, New Delhi
Match 8
Sunday, March 20, 2016

West Indies vs Bangladesh
M. A. Chidambaram Stadium, Chennai
Match 9
Sunday, March 20, 2016

Sri Lanka vs Ireland
Punjab Cricket Association IS Bindra Stadium ,  Mohali
Match 10
Monday, March 21, 2016

Australia vs New Zealand
Vidarbha Cricket Association Stadium, Nagpur
Match 11
Tuesday, March 22, 2016

England vs India
Himachal Pradesh Cricket Association Stadium ,  Dharamshala
Match 12
Wednesday, March 23, 2016

South Africa vs Ireland
M. A. Chidambaram Stadium, Chennai
Match 13
Thursday, March 24, 2016

Australia vs Sri Lanka
Feroz Shah Kotla Ground, New Delhi
Match 14
Thursday, March 24, 2016

England vs West Indies
Himachal Pradesh Cricket Association Stadium, Dharamshala
Match 15
Thursday, March 24, 2016

Pakistan vs Bangladesh
Feroz Shah Kotla Ground, New Delhi
Match 16
Saturday, March 26, 2016

Australia vs Ireland
Feroz Shah Kotla Ground, New Delhi
Match 17
Saturday, March 26, 2016

South Africa vs New Zealand
M. Chinnaswamy Stadium ,  Bangalore
Match 18
Sunday, March 27, 2016

West Indies vs India
Vidarbha Cricket Association Stadium, Nagpur
Match 19
Monday, March 28, 2016

England vs Pakistan
M. A. Chidambaram Stadium, Chennai
Match 20
Monday, March 28, 2016

South Africa vs Sri Lanka
M. Chinnaswamy Stadium ,  Bangalore
Match SF 1
Wednesday, March 30, 2016

TBD VS TBD
Feroz Shah Kotla Ground, New Delhi
Match SF 2
Thursday, March 31, 2016

TBD VS TBD
Wankhede Stadium, Mumbai
Final
Sunday, April 03, 2016

Winner SF1 VS Winner SF2
Eden Gardens, Kolkata