The 54th match of Indian Premier League 9 will be played between Gujarat Lions vs Mumbai Indians on 21st May 2016. IPL 9 has started on 9 April 2016 and will finish with the final match to be played on 29th May 2016. Check live score of GL vs MI match 54 IPL 2016.
Gajarat Lions is one of the teams who got the opportunity to play in  Indian Premier League due to ban on Chennai Super Kings and Rajasthan Royals for two years. GL team will captained by Suresh Raina who is a former CSK player. The other key players of the team are Dwayne Bravo, Brendon McCullum, Dwayne Smith and Ravindra Jadeja.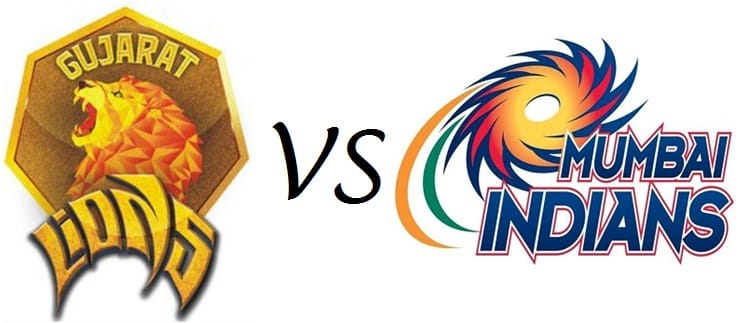 Mumbai Indians have been the two times champions of 2013 and 2015. Though the team did not performed well in the first two seasons but make their come back from third and has become one of the strongest teams. Rohit Sharma, under whose captaincy MI won its both titles, will leading the team in IPL 2016 also while Sachin Tendulkar will contribute as a mentor.
Gujarat Lions Squad:
Suresh Raina, Akshdeep Nath, Dwayne Bravo, Aaron Finch, Ishan Kishan, Ravindra Jadeja, Shadab Jakati, Dinesh Karthik, Shivil Kaushik, Dhawal Kulkarni, Praveen Kumar, Brendon McCullum, Pradeep Sangwan, Jaydev shah, Umang Sharma, Dwayne Smith, Dale Steyn, Pravin Tambe, Andrew Tye
Mumbai Indians squad:
Akshay Wakhare, Ambati Rayudu, Harbhajan Singh, Hardik Pandya, J Suchitch, Jasprit Bumrah, Nitish Rana, Parthiv Patel, Ranganath Vinay Kumar, Rohit Sharma (Captain), Shreyas Gopal, Siddhesh Dinesh Lad, Nathu Singh, Krunal Pandya, Deepak Punia, Kishore Kamath, Jiten Shrama, Unmukt Chand, Corey Anderson, Keiron Pollard, Lasith Malinga, Lendl Simmons, Marchant de Lange, Mitchell McClenaghan, Tim Southee, Jos Buttler.
Match 54th GL vs MI IPL 2016
                 Vs
Venue
TBC
Date

21st May 2016

Time

 8:00 pm (Local Time)

Toss

GL won the toss and choose to bowl 
As soon as the match will start, live score will be updated below.
Score:-
MI: 172/8 in 20 overs
GL: 173/4 in 17.5 overs
Match Result: Gujarat Lions won the match by 6 wickets
Man of the Match: Coming Up
Full Scorecard of GL vs MI :-
Mumbai Innings :-
BATSMEN
RUNS
BALLS
SR
4S
6S
Rohit Sharma
c Shadab Jakati b Dhawal Kulkarni
30
17
176.47
4
2
Martin Guptill
c Dwayne Bravo b Dwayne Smith
7
9
77.77
1
0
Nitish Rana
c Dhawal Kulkarni b Dwayne Bravo
70
36
194.44
7
4
Krunal Pandya
c Aaron Finch b Dwayne Smith
4
3
133.33
1
0
Jos Buttler
c & b Dwayne Bravo
33
31
106.45
3
0
Kieron Pollard
c Dwayne Smith b Dhawal Kulkarni
9
11
81.81
0
1
Hardik Pandya
c Ravindra Jadeja b Praveen Kumar
7
8
87.50
1
0
Harbhajan Singh
c Suresh Raina b Praveen Kumar
3
5
60.00
0
0
Vinay Kumar
NOT OUT
1
1
100.00
0
0
EXTRAS
(nb 1, w 4, lb 3)
8
TOTAL
(8 wickets; 20 overs)
172
GL Bowling :-
BOWLER
O
R
W
ECON
DOTS
Praveen Kumar
4
24
2
6.00
15
Dhawal Kulkarni
4
41
2
10.25
10
Dwayne Smith
4
37
2
9.25
9
Shadab Jakati
3
30
0
10.00
3
Dwayne Bravo
4
22
2
5.50
11
Ravindra Jadeja
1
15
0
15.00
0
GL Innings :-
BATSMEN
RUNS
BALLS
SR
4S
6S
Aaron Finch
lbw Vinay Kumar
0
2
0.00
0
0
Brendon McCullum
b Harbhajan Singh
48
27
177.77
8
1
Suresh Raina
c Jos Buttler b Jasprit Bumrah
58
36
161.11
8
2
Dinesh Karthik
c Jos Buttler b Vinay Kumar
3
4
75.00
0
0
Dwayne Smith
NOT OUT
37
23
160.86
4
2
Ravindra Jadeja
NOT OUT
21
15
140.00
4
0
EXTRAS
(w 4, lb 2)
6
TOTAL
(4 wickets; 17.5 overs)
173
MI Bowling :-
BOWLER
O
R
W
ECON
DOTS
Vinay Kumar
3
17
2
5.66
10
Jasprit Bumrah
4
42
1
10.50
9
Mitchell McClenaghan
3.5
38
0
9.91
8
Krunal Pandya
2
28
0
14.00
2
Harbhajan Singh
4
36
1
9.00
7
Hardik Pandya
1
10
0
10.00
3