On 30 January 2016, we have two matches from MCL T20. Gemini Arabians vs Leo Lions match will be played first, starting at 3:00pm (local time). Both the teams already played their first match in which they registered the win. Gemini Arabians won against Libra Legends and Leo Lions against Capricorn Commanders. Total 6 teams are there in the League which will be competing to get in the top 4 in the points table. Each team will play 5 league matches, then semi Finals & Final.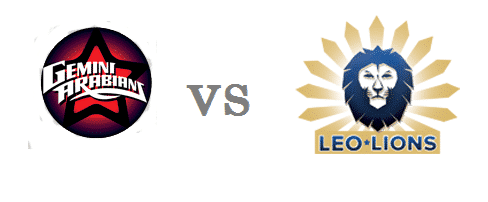 Gemini Arabians vs Leo Lions Live Score Match 4th :
Virender Sehwag will be in the captain of Gemini and Lions will be headed by Paul Collingwood. We will cover all the live action from Masters champions league. Check Live score of match 4th here.
Toss: Lions won the toss and elected to  bat first.
Venue : Dubai Cricket Ground, Dubai
Captain :Virender Sehwag & Paul Collingwood
Match : Gem vs Leo
Live Score :
Leo Lions : 132/7 in 20 overs
Gemini : 133/2 in 18 overs
Match Result : Gemini Arabians won the match by 8 wickets and on the top of the tables.
Gemini Arabians vs Leo Lions Batting Card Scorecard:-
1st Inning –
LEO LIONS
R
B
4's
6's
SR
MIN
HJH MARSHALL
run out (JA Rudolph)
16
9
3
0
177.78
11
RJ PETERSON
b KD Mills
6
9
0
0
66.67
13
HH GIBBS
c JM Kemp b M Muralitharan
2
9
0
0
22.22
27
BRM TAYLOR†
lbw b M Muralitharan
23
16
5
0
143.75
14
BC LARA*
c V Sehwag* b M Muralitharan
0
1
0
0
0
1
JEC FRANKLIN
b M Muralitharan
35
37
0
1
94.59
48
SB STYRIS
c KD Mills b JM Kemp
32
31
0
0
103.23
47
J BOTHA
not out
10
9
1
0
111.11
11
HH STREAK
not out
0
0
0
0
2
EXTRAS
(w 4, nb 1, lb 3)
8
TOTAL
(7 wickets; 20.0 overs)
132
6.60 RPO
Gemini Bowling card :
| GEMINI ARABIANS | O | M | R | W | EC | AV | EX |
| --- | --- | --- | --- | --- | --- | --- | --- |
| KD MILLS | 4.0 | 0 | 25 | 1 | 6.25 | 25.00 | (w 1, nb 1) |
| G ONIONS | 2.0 | 0 | 21 | 0 | 10.5 | – | |
| RANA NAVED-UL-HASAN | 3.0 | 0 | 24 | 0 | 8 | – | |
| M MURALITHARAN | 4.0 | 0 | 19 | 4 | 4.75 | 4.75 | (w 1) |
| SAQLAIN MUSHTAQ | 4.0 | 0 | 18 | 0 | 4.5 | – | (w 1) |
| JA RUDOLPH | 2.0 | 0 | 13 | 0 | 6.5 | – | |
| JM KEMP | 1.0 | 0 | 9 | 1 | 9 | 9.00 | (w 1) |
2nd Innings :-
Gemini Arabians Batting Card :-
GEMINI ARABIANS
R
B
4's
6's
SR
MIN
V SEHWAG*
b RJ Peterson
12
11
0
1
109.09
18
RE LEVI
c HJH Marshall b RR Powar
13
13
1
1
100
27
KC SANGAKKARA†
not out
41
41
3
0
100
63
BJ HODGE
not out
65
43
5
2
151.16
55
EXTRAS
(w 2)
2
TOTAL
(2 wickets; 18.0 overs)
133
7.39 RPO
Lions Bowling card :
LEO LIONS
O
M
R
W
EC
AV
EX
FH EDWARDS
3.0
0
29
0
9.67
–
(w 1)
RJ PETERSON
3.0
0
23
1
7.67
23.00
(w 1)
J BOTHA
4.0
1
24
0
6
–
RR POWAR
2.0
0
14
1
7
14.00
SB STYRIS
4.0
0
25
0
6.25
–
HH STREAK
2.0
0
18
0
9
–