As we all know the biggest cricket tournament ICC T20 World cup 2016 is going on in India. In a match of Super 10 Stage between England and West-Indies another record formed. Chris Gayle becomes the only player who scored two centuries in T20 World Cup. In this match Chris Gayle scored unbeaten 100 runs on just 48 balls including 11 massive sixes, 5 fours and made his team win their first match of the tournament. The video of the match is given below.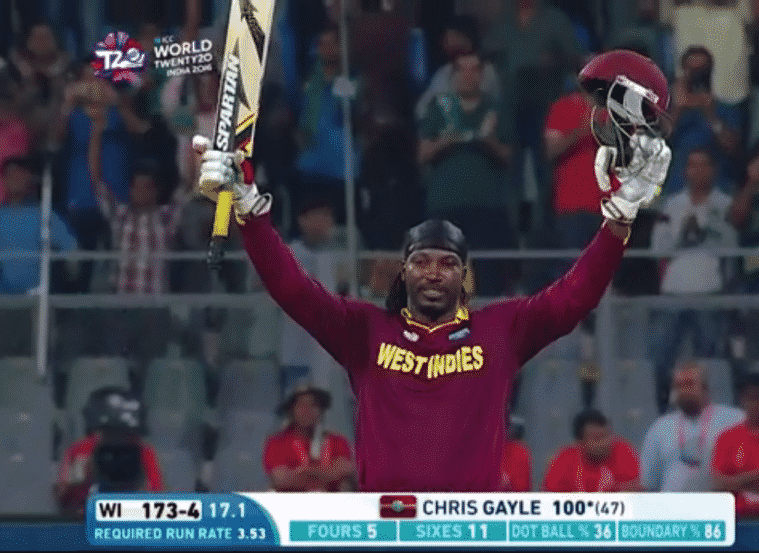 On 16th March 2016, the occasion was West Indies vs England T20 match from Group 1 when England batted first and scored 182 runs in 20 overs on the loss of 6 wickets. It was not an easy task for the West-Indies to chase down such a good total. Johnson Charles and Gayle came to open the inning for their team but in the very first over Charles got out. Then Marlon Samuels came on to the crease and take their team score forward with Chris. After scoring handy 37 runs on 27 balls, Samuels also departed. But Chris Gayle continued his brilliant innings, on the other hand wickets are falling on regular intervals but he was always their on the crease. In just 47 deliveries he completed his century and became the only batsman who scored two hundreds in T20 World Cup. In his innings 11 sixes are concluded and one of them was one of the biggest six of this season of 98 meters. In his total runs scored in boundaries are :-
11 x 6s = 66
5 x 4s = 20
Total runs = 86
So only 14 runs came into the form of single and double else all are from big hits. You can check watch some of the highlights of his great hundred run innings of T20 World Cup 2016 in the below given video :-


Also Check : Top 10 Leading Run scorer Batsman of the tournament.
More records will be created in the ongoing World T20 just stay with us.
Check Points table of the tournament .